Looking back at previous year-end posts, I've realised that I tend to be pretty gloomy when looking back at the recent past. This year has certainly given us plenty of reasons to be fearful, a long list which I'm not going to go into here. Because it strikes me that celebrating the positive is part of the fight back against those who would deny us hope.
Don't get me wrong, I have utmost respect for those who agitate, protest and stand up against all the shit we have to deal with. And I certainly don't think that burying your head in the sand is an option right now. But when people deliberately aim an attack on those in pursuit of pleasure - going to a show or a football match, or just having a meal - continuing to do those things becomes a form of resistance. And I'm not just talking about Jihadi attacks - there's plenty of twisted ideology governing this country, and in punishing the least well off, those in power are undoubtedly revealed as anti-hope. Anti-joy.
This being positive thing is going well, isn't it?
So, fuck those guys, and celebrate the good things, and the good times. Which for me this year, included getting to celebrate three brilliant couples getting hitched. It was a genuine honour to be present at the weddings of Clare and Rich, Emily and Burton, and Noelle and Adam, all of whose big days were a blast. As a result, Anna and I also got to visit Liverpool and Bath, two wonderful towns we haven't been to in far too long. We also headed to Bridport with Anna's family to go for coastal walks, check out lots of Broadchurch locations, try and find a pub which wasn't a Palmer's pub, enjoy a hat festival, catch up with my folks and, most importantly, spend lots of time with our brilliant little nephew, Rory.
This was also a year for catching up with old friends, with Ross and Laura, and Adam & Di, visiting the UK from America and Australia respectively. November saw a very drunken night in Hitchin for the wonderful Caroline's 40th, attended by a bunch of old skool Southampton faces, some of whom I hadn't seen in nearly two decades. It was also great to catch up with Steeny and Sophie at the Teeth Of The Sea show at the Green Door Store. And Jimmy and the rest of TOTS, natch.
2016 already has two more weddings in store for us (James and Marianne, and Sarah and Duncan), and hopefully a chance to hang out with some of the many people I didn't see this year.
Anyway, onto the tunes and that...
ALBUMS OF THE YEAR
1.Henry Blacker - Summer Tombs
2. Sleater-Kinney - No Cities To Love
3. Bad Guys - Bad Guynaecology
4. Grave Pleasures - Dreamcrash
5. Evil Blizzard - Everybody Come To Church
6. Gallows - Desolation Sounds
7. Teeth Of The Sea - Highly Deadly Black Tarantula
8. Acid King - Middle Of Nowhere, Center Of Everywhere
9. Hey Colossus - Radio Static High
10. Goatsnake - Black Age Blues
11. Beach Slang - The Things We Do To Find People Who Feel Like Us
12. Iron Maiden - The Book Of Souls
13. Grey Hairs - Colossal Downer
14. Torche - Restarter
15. You're Smiling Now But We'll All Turn Into Demons - Population IV
16. Purity Ring - Another Eternity
17. Sunn O))) - Kannon
18. Nai Harvest - Hairball
19. Destruction Unit - Negative Feedback Resistor
20. Brothers Of The Sonic Cloth - Brothers Of The Sonic Cloth
TUNES OF THE YEAR
1. Bad Guys - Crime
2. Henry Blacker - Summer Tombs
3. Jamie Woon - Sharpness
4. Stormzy - Know Me From
5. Everything Everything - Regret
6. Gallows - Mystic Death
7. Sleater-Kinney - Price Tag
8. JME - Man Don't Care
9. Bad Guys - Reaper
10. You're Smiling Now But We'll All Turn Into Demons - Seya
GIGS OF THE YEAR
Carlton Melton/Wytch Pycknyck @ The Green Door Store
Cuz/Joeyfat/Daniel Wakeford @ Sticky Mike's
Daskinsey4@ The Cowley and The West Hill Hall
Death Angel @ The Concorde
Earth @ The Komedia
11Paranoias/Bad Guys/Broken DC @ The Green Door Store
Give/Cheap Affects @ Sticky Mike's
Gnod @ Sticky Mike's
Harda Tider/Damaged Head/TEEF @ The Cowley
Duncan Harrison @ The Cowley
Hey Colossus @ Sticky Mike's
Joe Buck Yourself/Viva Le Vox @ The Cowley
Th'Legendary Shack Shakers @ The Haunt
Long Knife @ The Cowley
Lower Slaughter @ The Cowley and Sticky Mike's (twice!)
Mudhoney @ The Concorde
Prolapse @ The Hope
Daniel Romano @ The Albert
Peggy Seeger @ The Ropetackle
Sheer Mag @ The West Hill Hall
Single Mothers @ The Hope
Slum Of Legs @ The Hope (twice!)
Swervedriver @ The Haunt
Teeth Of The Sea @ The Green Door Store
Therapy? @ The Concorde and The Electric Ballroom
Walk Through Fire/War Wolf @ Bleach
The Wharves @ The Hope
TELEVISION OF THE YEAR
1. No Offence
The trailers for No Offence made it look like a comedy show, but it wasn't, really. I mean, a series whose central plot involves the hunt for a serial rapist and murderer of girls with Down's Syndrome hardly screams "barrel of laughs", does it? Rather than being some sort of police procedural sitcom, No Offence had the balls to leaven the harrowing situations with humour through the presence of several witty characters, not least Joanna Scanlan's turn as DI Viv Deering. Speaking of which, balls might not be the most appropriate word to use for a cop show whose three central characters are all well-written, brilliantly acted women. Apparently, there's going to be a second series, which is good news - although it'll be interesting to see how they handle the fall out from the gruesome conclusion to the first.
2.The Bridge
Just to lay my cards on the table, I'm writing this without watching the last two episodes of The Bridge III. But, let's face it, the chances of them fucking it up seem minimal. I wondered whether this series could maintain its grip on me with the absence of Kim Bodnia's wonderful Martin Rohde. I needn't have worried; I was hooked as soon as the title sequence hit (I suspect that that tune by Choir Of Young Believers will send night time images of Malmö, Copenhagen and the titular Øresund Bridge into my brain for as long as I live). Sofia Helin's portrayal of protagonist Saga Norén remains something to marvel over, with this series dumping more shit on her than ever before, while Thure Lindhart proves a decent replacement for Martin as Henrik Sabroe, a man with his own fair share of secrets. It's hard to talk about the central murder plot without spoilers, but many of the trademarks of the first two series remain: a shadowy killer, a selection of individual sub-plots which only come into focus over time (and which include plenty of red herrings), characters who initially seem crucial to events but who disappear from the screen as soon as their usefulness to the narrative expires. And sex. I was also chuffed to see Nicolas Bro turn up, as I had a soft spot for his turn as Thomas Buch in the second series of The Killing. Though I feel a bit weird mentioning him straight after the word 'sex'.
3. Jonathan Strange & Mr Norrell
Supposedly unfilmable, this novel proved a televisual triumph, even if ratings disappointed. The ever-reliable Bertie Carvel and Eddie Marsan played the eponymous protagonists, with support from an excellent cast. The tone and atmosphere were just right, and (assuming that there is never a sequel to the novel - or an original second series) this was 2015's best and weirdest one-off.
4.The Returned
Viewers left distraught at the vague ending of The Returned's first series were surely missing the point - there was no way this wasn't coming back (which feels like it should be a joke, given the whole rising from the dead theme and that). This second series succeeded in moving the story on, introducing new characters and drip-feeding clues as to what the ruddy hell is going on in this creepy French town. This time round, the finale seemed to bring a sense of closure, although there were still plenty of questions and general weirdness left hanging.
Anyway, here's a picture of Victor in a Skid Row t-shirt.
5. Humans
This one seemed to divide opinion, even as it became Channel 4's most successful drama in years. Folk were quick to point out an apparent lack of originality, and sure, you could see plenty of echoes of things (deep breath...): The idea of conscious machines being indistinguishable from humans has been explored in plenty of SF fiction, most famously in Philip K. Dick's Do Androids Dream Of Electric Sheep?, subsequently adapted as Blade Runner, whose replicants are a clear predecessor of the group of "synths" on the run in Humans. The paranoid tension of this situation recalled the recent Utopia, as did the cast's bringing together of various well-known telly actors (including Utopia's Neil Maskell, so much better in these things than the Brit gangster/hooligan movies he so often winds up in). The tone and subject matter made the series feel like an extended Black Mirror, while the idea of anti-synth sentiment being on the rise was reminsicent of, well, everything that's ever used SF/fantasy to explore allegories of racism/fear of the other. So, OK, Humans wasn't original. And it wasn't as good as Utopia. But it was bloody great drama all the same.
6. Not Safe For Work
Like No Offence, Not Safe From Work was trailed in a way that it made it look like a comedy, a drug-fuelled update of The Office perhaps. Laugh at the funny drug casualties who can't do their jobs! Except, again, it really wasn't a comedy - and what humour there was tended more towards gallows humour. NSFW (yeah, I know, annoying name) saw Zawe Ashton's Katherine, rebounding from both divorce and a miscarriage (there's that barrel of laughs again!), finding her civil service job uprooted from London to Northampton due to cuts. There, she finds a department run by Sacha Dhawan's Danny - a complete mess of a man who spends most of his time getting fucked up with PA Angela. Essentially an extended essay on ennui, NSFW is populated by dysfunctional, lonely, conflicted characters who are barely clinging on. Ashton and Dhawan are both brilliant, the latter's relationship with Angela slowly revealing the mutual neediness that lies behind their drug buddy status. Yes, it is funny at times, but this series is just as interested in the long sigh after the laughter.
7. And The There Were None
I haven't wheeled out the traditional defence for leaving my year-end list so late, so I'll let And There Were None do it for me - shown after Christmas, this tremendously dark-hearted Christie adaptation didn't make it onto any Best of 2015 list, most of which would have been composed a good month before it screened. No Poirot, no Marple, just ten people with dark pasts being bumped off one by one in an atmosphere of paranoia and distrust. Insert Christmas with the family joke here.
8. River
I've never lived in London, but River was one of the few shows to evoke the London I know - not just the landmarks and the West End and the Thames, but the streetlamp-lit streets of kebab shops and taxi firms I've walked through to go back to mates' flats after gigs. Funny,then, that it's central character wasn't played by a Londoner, but yer actual movie star Stellan Skarsgård. It wasn't Hollywood that he brought with him, though, more Nordic Noir, as the classically rumpled detective interacted with visions of dead people, including not just murder victims but also Eddie Marsan as a Victorian killer. (Interestingly, The Bridge had a similar device this year. Although without the Lambeth poisoner). If it seemed reasonably certain that these were products of a mental health issue rather than actual ghosts, it nevertheless made for spooky stuff. The scenes with Skarsgård and potential national treasure Nicola Walker were playful and palpably full of buried desire, while Adeel Akhtar continued his quiet campaign to become recognized as one of the country's most underrated actors. Also, one thing that separated River from Nordic Noir: you're never going to see Saga belting out disco-era karaoke.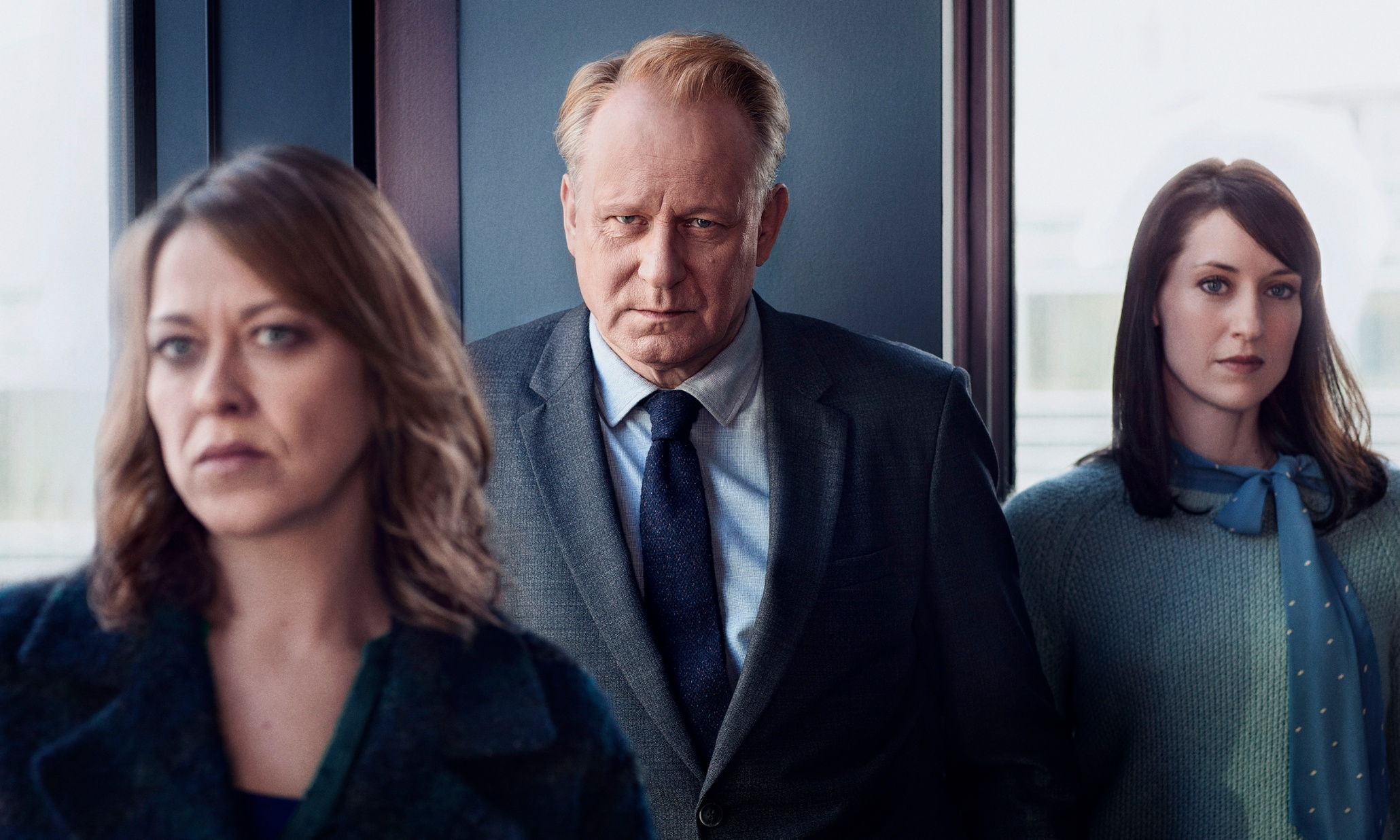 9. Poldark
I can't help thinking that a pretty large proportion of the typical audience for a Sunday night period dramas are Tory voters, nostalgic for the olden days and sufficiently well-off to imagine that they'd be the ones living in country houses, not the ones dying of disease in slums and hovels. Poldark must have caused these people some confusion, given that its titular hero was something of a fighter for social justice, agitating for fare wages for miners, breaking a convicted poacher out of prison, helping poor characters steal booty washed onto the picturesque Cornish coast from shipwrecks. As it was a terrific success I can only imagine that, rather than deserting the series, this portion of its viewers simply decided that the dastardly cad George Warleggan was the hero, and were rather cheered to see Poldark arrested for his crimes at the end of the series.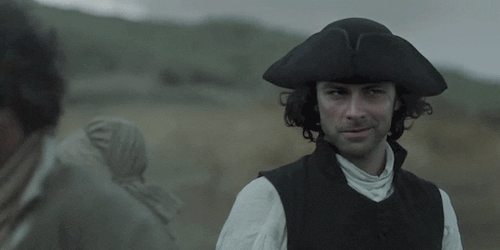 10. Broadchurch
Last time, I wondered aloud how the second series of Broadchurch could possibly live up to its stellar predecessor. Clearly, it didn't. But as everyone seemed to turn on it with a weird sort of disappointed rage, I clung on and found myself enjoying it. Sure, there were misjudgements in the plot and emphasis of the series, but it was still thrilling television with a cast most other shows would kill for.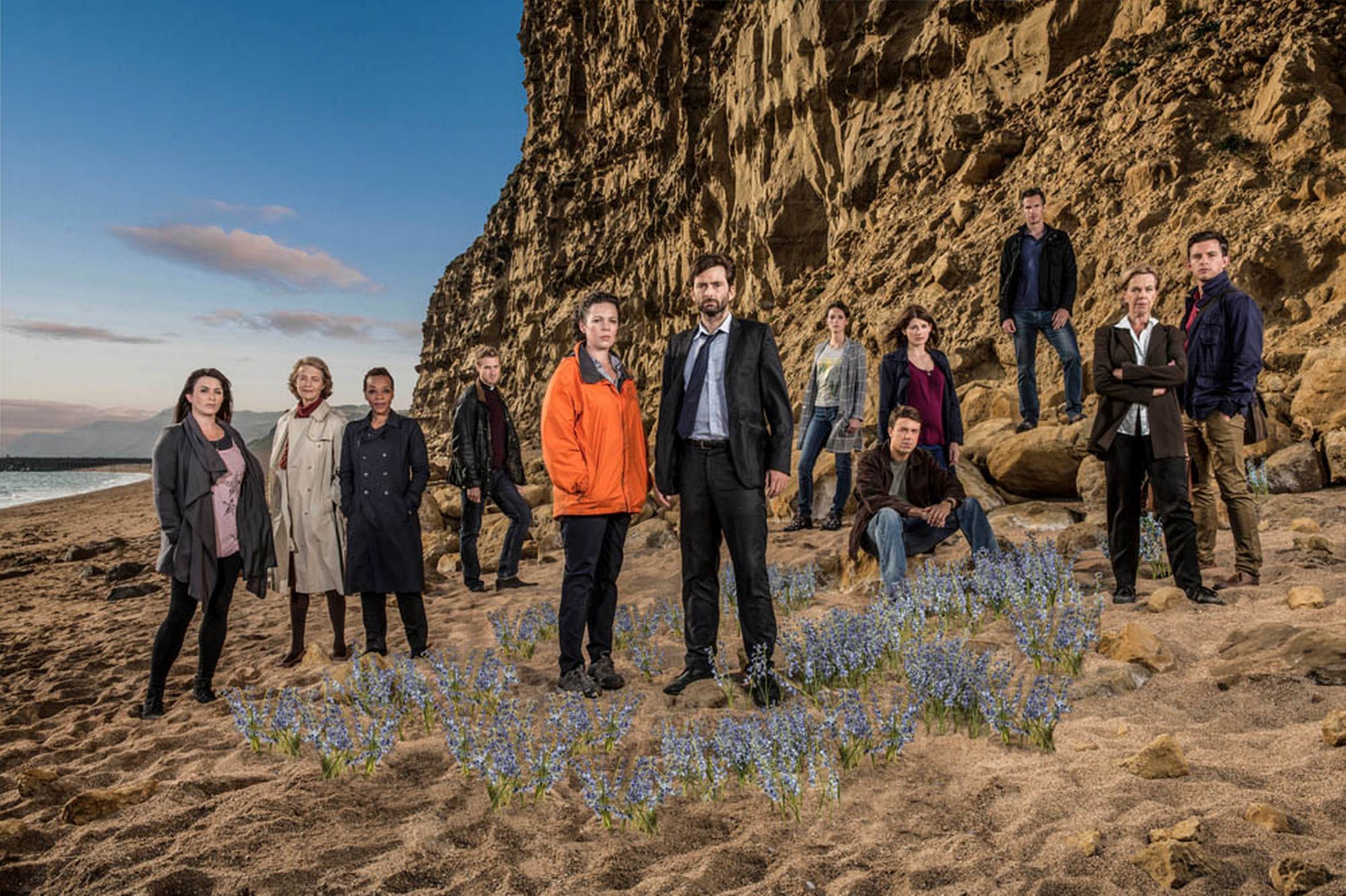 Also:
Doctor Who was as inconsistent as ever, but Peter Capaldi turned in his best performances yet. Ripper Street vindicated its reprieve from the axe with a well-put together third series, developing plot threads from the first series and giving Fred Best a remarkable final scene. Inside No.9 contained some real treats, particularly the Sheridan Smith episode. Brighton-based Bill knock-off Cuffs was terrible but compulsive viewing - at least for people who live in Brighton. The 100 moved up in my estimation with a second series full of moral dilemma and Vietnam analogy. I'm glad Under The Dome is over. Still lying unwatched on our TVR: London Spy, Fargo, This Is England 90, Unforgotten and undoubtedly more that I've , er, forgotten.