If you were an open-minded sort of punk in Southampton, the early years of this millennium were quite a time to be alive. Sibling promoters OOMF had effectively taken ska and pop-punk off the STE's hands, leaving them to put on an array of music close to their various members' hearts, whether that meant post-hardcore, indie pop, thrashcore or even jazz. And, of course, metal.
So, confusingly, I'm going to start with a show from September '99 which seems to have been inexplicably ignored in my previous chapters. This was when Hard To Swallow and Uncurbed descended on Copperfields, a small pub on the edge of the park separating the city centre from St Mary's. First on were White Finger, a short-lived combo featuring Lobster from Minute Manifesto and Nath from Haywire. Swedish crust punks Uncurbed went on next, metaphorically smashing the place up with a storming set. The flyers advertised them playing last, and word was that a bunch of local metalheads, who'd come down due to the appeal of Hard To Swallow featuring Iron Monkey alumni, mistook the two bands and left without seeing the band they'd come down for... ah, the days before internet searches removed the mystery of knowing what bands looked like. (Though I'm not sure that people would have been any less likely to notice the differences in accent between Sweden and Nottingham or wherever HTS were from). So anyway, Hard To Swallow played and were hard as fuck. I remember one of their vocalists doing that hardcore band thing of delivering one of his verses right into the face of an audience member, in this case choosing one Clive Henry, who remained unflappable despite this onslaught of East Midlands rage. Bloody Kev, one of said vocalists, will probably pop up in future chapters as a member of Dead Inside. Or Wives Of Seth. Or Raging Speedhorn. Or Regimes. This blog doesn't give out prizes, but if there was one for seeing the same person play in the most bands, Bloody Kev would certainly be on the shortlist.
And so we cross the threshold of the 21st Century, where, less than a fortnight in, I found myself watching a band playing mournful hymns to Breton separation. Start as you mean to go on, eh?
Sarah was the Google-proof name of this most unusual band. Straight edge and dedicated to the cause of Breton independence, their music was, as you can probably imagine, no joking matter. They had enough hardcore fury to satisfy noiseniks, but also wove elements of traditional Breton music into their pieces. Genuinely one of the most astounding shows I saw the STE put on, it was no surprise that they were asked back that summer to play at that year's weekender. Unfortunately, the band's links to revolutionary separatist groups back home caught up with them - as I recall, they had to pull out as at least one member was due in court on charges relating to a bombing. It's fair to say you never got this with Smog UK.
Sarah would never play in Southampton again - and neither would support band Minute Manifesto, though this was never planned as their last show. I've often though of them as Southampton's answer to Napalm Death, an idea which would almost certainly horrify the majority of the band, but the activities of the various chimps who made up MM proved similarly varied to those of Napalm Death's diaspora. Napalm retirees ended up playing doom metal (Lee Dorrian's Cathedral), industrial/techno (Justin Broadrick in various guises) and dark electronica (Mick Harris as Scorn), not to mention a horde of more sonically related side-projects from past and present members. While none of MM would go techno, there were certainly a bunch of different bands and projects, including outsider folk and Minutemen-worshipping art-punk, which grew out of their split, many of which we'll hear about in due course. Sadly, though, Lobster passed away in 2007, and the world immediately became a slightly more mundane place.
A month or so after the Sarah gig, Therapy? returned to Southampton. It's fair to say that their status had somewhat diminished since its mid-90s high; where once they could pack out the Guildhall, they were now calling in at the significantly smaller University Union, their appeal becoming more selective. Since I'd last seen them, they'd released two albums, Semi-Detached and Suicide Pact - You First, which had pretty much passed me by, but their back catalogue ensured another cracking show from the punk-o-metal fellers. Also making a visit to Southampton's seat of learning that night were The Yo-Yos and Clutch, the latter ensuring a few more metallers turned out than might have otherwise been the case. As we shall see over the course of this chapter, doom and stoner rock was becoming a birrova "thing" for me, and Clutch represented the groovier, more American end of this wave.
More Americans would play for either the STE or OOMF a few months later. In April, a very nearly famous At The Drive-In played The Joiners, though as they'd signed to a major, the STE pulled out of promoting the gig to make way for the SOS Collective, curiously never heard from again; I didn't make it to the show as it clashed with that year's All Tomorrow's Parties, which we'll get to next time. Also in April The Lapse, featuring members of The Van Pelt, played The Hobbit, while Discount returned to The Joiners in May, making one last visit before Alison Mosshart rebranded herself as VV and started hanging round with Kate Moss instead of these punk rock losers. At some point - I can't find a date but I'm pretty sure it was the summer of 2000 - the STE were offered Hot Water Music at short notice, but couldn't find a venue. Always a man prepared to countenance the unthinkable, Ross managed to secure the use of the Solent Leisure Centre in Portswood. This meant that the respected melodic hardcore types plied their trade in the foyer in front of a mirror that filled the entire wall, with fake indoor plants sprouting either side and a makeshift bar operating from the reception desk. Also on the bill were our old friends Trophy Girls, whose set prompted some local youths, perhaps drawn to the show by the promise of hardcore and all the shenanigans that might have promised, to leave the venue while loudly proclaiming it wasn't "rowdy" enough. They returned a little while later, tails between legs, to ask if they could come back in as they'd dropped some drugs somewhere inside. With a worryingly Trumpian flourish, I would later describe this in an STE bulletin as "sad!"
June brought the aforementioned STE Festival, with a host of bands playing the Kellar on London Road. SoutHCoast hardcore was well represented with a slew of local sorts and usual suspects. Even so, Trophy Girls once again relished their status as outsiders. Clive started the set by thrashing out a basic punk rock chord sequence and singing the lyrics "Nuffing to lose, I got nuffing to lose" a couple of times, before stopping to say "Thanks, this is our last song." They then played a brand new, set-length piece to the occasional heckle of "Play something with words!" from the more traditional elements of the audience. I believe it did literally turn out to be their last song, as they disbanded shortly afterwards. A recording of this set was available to download for a while, but I just had a look and all traces of it appear to have disappeared from the internet.
This was also the first time I saw Reading-via-Southampton emo kids Circus Act, whose set included a rant against mobile phones from their singer. Not sure if this was fully planned or brilliant serendipity, but as he expressed his rancour towards the pocket-based communication devices... his mobile rang. He pulled it out and stamped on it, suggesting it was either a cheapo phone and this was the equivalent of bands smashing up £20 guitars to look cool, or that he was genuinely apoplectic about this poor timing. I didn't really know these guys so couldn't judge at the time...
Alongside the locals and Sweep The Leg Johnny, discussed in a previous chapter, there were a few other notable performances over the weekend. Urko were a pretty brutal thrashcore band who, by this point, had been ripping the UK scene a new one for a few years. Curious parties are advised that you can apparently access their entire discography for zero pounds at
https://iqhc.bandcamp.com/album/urko
. The strongest memory I have from this set was a between-song ad lib from bassist Jas Toomer. Referring to the alleged killer of Jill Dando, who'd been arrested a week or so beforehand, he announced "This one goes out to Barry Bulsara. I haven't seen a picture of him, but I bet he looks just like me." Barry Bulsara/George would be convicted of the murder, before being acquitted eight years later. Sadly, Jas was killed in a car crash in 2001.
Straight after Urko, the excellent Grimsby hardcore band Imbalance played a stormer, and melodic Manc types Grover played some of that sweet Crackle Records-style melodic punk rock. According to my extensive research (looking them up on Facebook), Grover are still active and played Rich Levene's birthday bash a couple of years back.
Closing the show on the second night were The Causey Way, who featured members of Man Or Astroman? and Servotron and therefore came with a borderline novelty, but actually pretty cool shtick, namely that they were supposedly a cult. Cue all-white costumes and plenty of testifyin', evangelical style, to go with their new wavey sounds. I wouldn't see another bunch of such fun fancy dress fans until The Upper Crust a year or so later, who you'll hear about next time...
https://www.youtube.com/watch?v=FAJn22S8m4k
Should you have clicked on that link above, you'll have heard from a young man who'd undoubtedly be unhappy with all the punk I've been writing about so far. Well, how better to get him back onside than with a trip to see Iron Maiden?
I'm not sure how much I can stress the importance of Iron Maiden to the thirteen year old me. I've told the story of getting into them many times, but suffice to say that they were the first band where I had to collect the whole back catalogue, where I studied the lyrics and interviews (I once tried archery because Dave Murray was apparently into it. I was rubbish), where I made up an imaginary band and designed record covers and logos heavily indebted to their iconic artwork (N.B. I don't do this nowadays. Well, not often). However, I was too young to be allowed to go and see them, even when I was fifteen and they played the not-exactly-threatening environment of Torbay Leisure Centre in 1990. Mind you, even the wet-behind-the-ears metaller that I was back then could tell that No Prayer For The Dying had signalled the start of their not-so-imperial phase, Number One single or no Number One single. By the time Fear Of The Dark rolled around, I wasn't paying too much attention, and then Bruce left - I watched the weird farewell TV gig with magician Simon Drake, which was as dispiriting as you'd expect from a made-for-television heavy metal concert featuring a magician. Blaze Bayley replaced Bruce, and while I remember quite liking the single Man On The Edge, the two albums he would make with Maiden barely registered with mid-90s me. To this day, I have absolutely no idea how The Angel And The Gambler goes.
It was quite a big deal, then, when Bruce and similarly-departed guitarist Adrian Smith rejoined the band in 1999. Along with various Gilamonsters and Winchester dwellers - Jimmy, Steeny, Chris, Nathan, Thomps - I was therefore pretty excited to go and see them, for the first time!, at Earl's Court in June 2000.
But first, I need to introduce you to The Leper.
I feel as if I've told you this story before, but I can't find where; apologies if I'm repeating myself. The Leper was the rather unfortunate nickname we gave to a regular customer at the shop where Jimmy, Chris and myself worked, a soubriquet he earned on account of his frankly unfortunate levels of acne. He was an awkward chap, prone to gnomic utterances like "It's heavier than it
is
," and somehow unable to pronounce the band name Deicide, rendering it instead Deus, which was an entirely different band altogether. He once asked us if we knew anyone who could paint Maiden mascot Eddie on the back of his leather jacket, only for Chris to say he'd do it in Tippex for £100. Luckily for all concerned, this offer was never taken up.
Anyway, on the afternoon of June 16th 2000, we were chilling in the pub for some pre-show bevvies when Jimmy was grabbed around the back of the neck by an unexpected assailant. Of all the pubs in the Earl's Court area, The Leper had somehow located us. We did, however, manage to lose him in the queue to get in, thereby avoiding mid-performance non-sequiturs being whispered into our ears throughout the evening. I can kind of imagine The Leper being the name of a character in a Maiden song, though, and this simple soul was certainly emblematic of a certain section of their fanbase.
Maiden support slots have not always been filled by bands of the highest caliber. When not keeping it in the family with the likes of Lauren Harris or Rise To Remain, they've often tended towards plod rockers like Dirty Deeds or choices of massively poor judgement, like Funeral For A Friend. On this occasion, however, they'd assembled a bill seemingly designed to highlight their own confidence. After all, not many bands of their vintage would have the balls to go on after Slayer, while kicking things off in delightfully heavy fashion were Swedish death'n'roll heroes Entombed. The latter had a predictably raw deal in terms of lights, sound and general audience engagement, but it was still awesome to see them, having been a fan since their Left Hand Path debut. Slayer came close to stealing the show; in the NME, Steven Wells confidently asserted that they'd done just that, comparing them to velociraptors or somesuch. But this was Iron ruddy Maiden, and while the setlist wasn't one I'd have chosen - they played Sign Of The Cross and The Clansman, but no Aces High or Wasted Years - I left the venue buzzing, safe in the knowledge that the favourite band of my early teens could still sound life-affirming a dozen years later.
More metal fun in the smoke followed a mere six weeks later when we went to see Electric Wizard Upstairs at The Garage. Chris interviewed the Dorset trio in the pub beforehand while the rest of us sat at the next table and earwigged, hearing tales of uncleared horror movie samples, outlaw lives lived in a Minster town, and the fact that one of them really liked Super Furry Animals. I think Jimi Tenor was supposed to be the unusual choice of support that evening, but pulled out to be replaced by Russel Haswell, or maybe it was the other way round... I suspect we got there after whichever of these two individuals played.
Back in my schooldays, which longterm readers may recall were spent just outside Wimborne in Dorset, I enthusiastically traded and sent off for tapes, discovering plenty of underground punk and metal for almost no money. I remember getting a tape which, amongst other stuff, featured a demo by UK doom/death band Thy Grief Eternal. I had no idea at the time that this band came from just down the road, and I'm not sure I'd realised by the time we saw Electric Wizard that they had featured future Wizard mainman Jus Oborn. At this point in 2000AD, Wizard's most recent full-length was, Come My Fanatics, though I believe they might have played some of the tunes that would be on Dopethrone, out a few months later. This would have been one of my first experiences of properly crushing doom metal in the live "arena", prompting me to announce to Jimmy afterwards that the gig had played with my sense of time to such an extent that I would be equally unsurprised to leave the Garage to find myself in a land full of dinosaurs or some weird far-flung future. Suffice to say that Wizard would become an enduring favourite for many years to come.
At some point, European hardcore types Carnated and Outbreak played in Southampton for the STE. I can't find anything about it anywhere, but I think it was at either The Sorcerer or Voltz. Some other shows I can't date for sure, both at Voltz: Slampt recording artistes International Strike Force and a double bill featuring French types Second Rate and Brighton post-hardcore bunch Scuttle, who included in their ranks Burton and Rich, who'd become great mates of mine a few years later. Here's a picture of them being zany.
It feels faintly ridiculous that, less than a year after playing The Joiners for (sort of) the STE, At The Drive-In were headlining an NME night at The Astoria in London. That goes double for the way it turned out to be their last UK show before splitting up - somehow, they'd managed to have a lifespan in the limelight comparable to one of those bugs that lives for a day or something.
Back at The Joiners, the supports had included Disoma and (I think) Trophy Girls; in London, it was Terris and My Vitriol. We arrived too late for Terris, a band now remembered principally for doing a co-headline tour with Coldplay just as the latter were starting to ascend to stardom. Poor old Terris. My Vitriol at least managed to receive some acclaim for their debut album, which would have been a few weeks away at this point. A reasonably engaging attempt to skew straightforward Foos/Ash-style indie rock with shoegazey effects, they certainly seemed ready to become a pretty big deal. I also saw them play the Wedgewood Rooms around this time, and recall a band who seemed destined to move to bigger venues. As it happened, various setbacks would mean that they didn't release another full-length for fifteen years - and that a limited, fan-funded release that probably flew under your radar as it did mine. I saw frontman Som at a party in London sometime in the late 2000s and he had an air of bitter disappointment about him, perhaps understandably. Here he is on Top Of The Pops in February 2001 with a fate-tempting long-sleeve.
There would be an even longer gap between albums for At The Drive-In, but the circumstances were rather different.
Nobody in the audience at that Astoria gig would have known that they were about to split up, but it was nevertheless pretty evident that all was not rosy in the ATD-I camp. As with Nirvana a decade earlier, the swift ascent from being an underground punk rock band to a mainstream sensation did not suit them at all as individuals; as Radiohead had accurately put it in between, both bands got a case of The Bends.
There were differences in their situations, and, of course, Nirvana's end played out in more tragic circumstances. But while the latter had to cope with a whole other level of fame, they also attained a degree of power and influence. They had the patronage of experienced predecessors like REM and Sonic Youth, and ripped open a portal into the mainstream through which friends like Mudhoney and the Melvins could make sallies into the straight world, freaking out norms who'd been lured into their orbit. Their success challenged existing power structures and brought punk rock ethics somewhat into the discussion. While they didn't do it alone, they were certainly prime movers in the mission to make hair metal look pretty fucking stupid.
At The Drive-In didn't have to deal with the scrutiny and pressure that Nirvana's success engendered, but on the flip side they weren't able to refashion the prevailing trends in rock music in their favour. They weren't entirely alone; their rise coincided with that of Queens Of The Stone Age and ...And You Will Know Us By The Trail Of Dead, while forefathers like Fugazi, Bluetip and Avail were still about, but ATD-I never seemed like an especially sociable bunch; it could be hard to think of the members of the band hanging out with each other sometimes, let alone with peers or patrons. And where Nirvana were able to curate an entire stage at Reading '92, ATD-I found themselves playing festivals alongside the lumpen masses of nu-metal, a genre which at its worst was just as regressive as cock rock. They came to London in February 2001 having recently played The Big Day Out festival in Australia, where a young woman called Jessica Michalik had died after being crushed during Limp Bizkit's set in Sydney.
Before playing, the band laid down some rules: "Dance with your asses, not your fists", no "sexist system of crowdsurfing." But inevitably, when you're big enough to headline The Astoria not The Joiners, there's gonna be a section of your audience which simply isn't hip to your ethics. Certainly, there's an argument that at this point in time, ATD-I were one of the most viscerally exciting bands in rock'n'roll, and it's therefore inevitable that people would want to move. As the moshing and the crowdsurfing inevitably happened, the band became increasingly annoyed, coming out with statements like, "If the only way you can express yourselves is to beat the shit out of each other, then I guess the counterculture has taught you nothing." I've certainly got a good deal of sympathy with them on this point, but it was becoming clear that they were fighting a losing battle.
Don't get me wrong: this was a great set, particularly a dub-emphasising reading of Enfilade and a predictably fiery One Armed Scissor. But this was clearly a band uncomfortable with all the bullshit surrounding them, and one which (unlike, say, Fugazi) wasn't strong enough ultimately to balance the seriousness of their convictions with the thick skin necessary for their survival. They played their last show less than three weeks later in the Netherlands.
https://www.youtube.com/watch?v=CpS9ICp9hOk
Obviously, they got back together a decade later.
But anyway, back to 2001, where I first had the experience of being on the wrong side of a generation gap. At the age of 26, I was at The Joiners, and I just could not fathom what the kids saw in Miocene. The nu-metal types were first on at a show also featuring Crackout and Sunna, and as I watched them I remember feeling...nothing. I didn't actively dislike what they were doing, but it left absolutely no impression on me. Later on, they'd outgrow the nu-metallicisms and make a couple of decent records, but at this point they were entirely generic. As were weedy pop-punk trio Crackout, to be fair. Of that evening's entertainment, only Sunna proved remotely engaging. I believe members of the band had contributed to Massive Attack's excellent Mezzanine album, and their dark, industrial-tinged rock certainly shared a brooding quality with that masterpiece. At this point, they also featured Richie Mills, formerly of this blog's favourites Cable, whose tubthumping skills were such that this was the first show I can remember where I spent most of the set watching the drummer.
Sunna are apparently still going in the present day, though I suspect they might sound a little different, a hunch based on the fact that Wikipedia's line-up includes people on fiddle, lap-steal (sic) and one Hippy Joe on mandolin. Bristolians, eh?
Bluetip, as mentioned above, made a visit to The Joiners that April, courtesy of both the STE and OOMF collectives. They would have been the first band on incredible Washington DC label Dischord that I'd had a chance to see live, and there's no denying that their streamlined post-hardcore sound was right up my street. Also on the bill were decent Exeter bunch Kids Near Water and Dead Inside, making this Bloody Kev's second appearance in this chapter. Dead Inside also featured folk out of various other bands from the UK punk scene, and played rocking, upbeat-but-angry hardcore. Jason out of Bluetip did the artwork for their album No.4, which ended up being their only full-length.
As mentioned above, one of the bands on the rise at this point was Queens Of The Stone Age. I'd been into Kyuss for a while, and had even seen QOTSA at Glastonbury in '99, a festival which I feel might have slipped through the cracks in the shaky narrative flow of this blog. What I hadn't done was predict that their second album would suddenly make them one of the hottest rock bands on the planet. In June 2001, along with Kev (Farren, not Bloody) and Wayne (and maybe some other folks?) I headed over to Portsmouth to go see them at the ever-chlorinated Pyramids.
First out that night were Goatsnake, their presence on the bill indicating that QOTSA hadn't entirely diverted from their stoner/doom roots. While it's not inconceivable to imagine, say, Pallbearer supporting Queens in 2018, in practice their choice of touring partners these days tend to reflect the slicker, Q magazine friendly band that they've become.
Goatsnake's frontman was Pete Stahl, formerly of Scream, another Dischord band whose debut Still Screaming album was a favourite of mine (and who would famously later feature one Dave Grohl on drums, the band evidently something of a haven for folk whose surnames ended in 'hl'). Their soulful doom left a big impression on us that night, which I suppose could also be said, in a less positive way, of the middle band on the bill.
King Adora, for it was them, were fucking atrocious. Third-rate indie dressed up in glam rock clothes, they'd already rankled me with their single Big Isn't Beautiful, a perhaps deliberately controversial hymn to anorexia. They went down like a sack of shit in front of what was, at that point, still a fairly metal-orientated QOTSA fanbase. Some people, who might have been some younger Southampton residents of my acquaintance, emerged from the gents with what might not have been water in plastic pint glasses, and hurled them at the stage. King Adora front-pillock Matt Browne responded by threatening to come back and sleep with the culprits' younger sisters. Classy.
We went to the Goatsnake merch table to say hello to Pete Stahl, where I enthused about Scream and Kev asked why King Adora were above them on the bill. Stahl replied by rubbing his thumb against his index finger, making the universal hand signal for "money".
Two principal factors had been responsible for the increasing success of Queens Of The Stone Age. Musically, they'd taken the excellent stoner rock of their self-titled debut and diversified into the ear-catching sounds of its follow-up Rated R, ranging from wreckhead mantra Feel Good Hit Of The Summer to the slinky grooves of The Lost Art Of Keeping A Secret. The other secret of their success was the yin-and-yang stage presence of Josh Homme and fellow Kyuss alumnus Nick Oliveri. The former had become a much more confident frontman since Glastonbury '99, while the latter had developed a berserker punk rock persona.
While I also seriously dig 2002's Songs For The Deaf, the setlist for this Pompey show hit a pretty sweet spot, with first album highlights like Avon and Regular John still given due prominence amongst the Rated R hits. I'd see the band again on Halloween 2002 at Southampton Guildhall, where Nick celebrated the occasion by getting fully naked onstage. He'd be out of the band a little more than a year later.
A couple of months later top Southampton student pub The Hobbit was rocked in quite substantial fashion by Endstand, a cracking Finnish punk rock combo who'd released an excellent 10" called Fire Inside on the great Combat Rock Industry label. This was one of those nights where you go and see a band you've not heard before, maybe because your friends are putting them on or your mates are supporting, and they fully revitalise your faith in music generally, and punk rock specifically.
More STE shows followed in October: first off, Austrian hardcore band Sick Of Silence at Voltz, and then a pretty incredible double bill of Trans Am and The Fucking Champs, a show sufficiently high profile to require the use of The Joiners, a pretty rare thing for a show solely promoted by the STE by this point. The Fucking Champs included in their line-up Nation Of Ulysses member and prolific record producer Tim Green, and were an instrumental three-piece who embraced the dual guitar harmonies and slightly dumbo appeal of 70s heavy metal. Trans Am, meanwhile, dabbled in a more Krautrock/synthcore sound. Both bands were bloody great, and getting to see them together was a treat indeed. They's done an EP together around this time as Trans Champs, followed, inevitably, a little while later by doing something as The Fucking Am.
Another US double bill at The Joiners came courtesy of OOMF, who put on Strike Anywhere and As Friends Rust; I remember enjoying both bands, but Strike Anywhere were the ones who've stayed with me, definitely one of the best melodic hardcore bands of that era.
In November 2001, the excellent band Tragedy, formed out of the ashes of His Hero Is Gone, played in Southampton. I wasn't there, however, because that was the same evening that Napalm Death were playing The Nexus.
I may have mentioned The Nexus before; it was Southampton's rock/metal club and the source of many drunken Fridays and Saturdays for me since I started going in 1994. Don't look for it, it's not there any more.
https://www.facebook.com/pg/wedemanconsulting/photos/?tab=album&album_id=298651326935138
Napalm Death, meanwhile, had been on my radar since the infamous Arena documentary on metal in 1989. Initially, I thought I'd found the limit of what I could take musically - that limit being somewhere before you get to seconds-long blurs of noise terrorism - but as so often happened back in the early days of discovering music, I kept going back to it, and in due course became hooked.
https://www.youtube.com/watch?v=bgcAj3oqd3k
As discussed in a previous chapter, I'd recently seen Napalm play the unlikely location of Wembley as part of the Tattoo The Planet festival, but the chance to see them play my local rock club was too much to turn down. What's more, Anna's friend Emmanuelle was now editing Southampton Uni's The Edge, and asked me to review the show for my old journalistic stomping ground.
Napalm were, of course, brilliant, and it felt more appropriate to see them in the close quarters of The Nexus than the cavernous surroundings of Wembley. There were old school blasts like Scum and Unchallenged Hate, along with newer tunes from their Enemy Of The Music Business album, a release which had proven something of a renaissance for the band after a period in the mid-late 90s when they seemed unsure of their direction. Four albums of this period saw them focus on mid-paced tempos and influences from Killing Joke, Swans, Helmet and Godflesh (themselves a post-Napalm band), and while they had their moments, these releases proved rather confusing for fans of both their 80s grindcore years and the subsequent, more death metal-aligned period. There was, apparently, a period where they were only keeping afloat by taking support tours with Cradle Of Filth, a band who clearly saw the worth of this British metal institution. In the nick of time, EOTMB was a blazing return to metallic grind and essentially guaranteed their survival right up to the present day - had it not been released, the chances of them playing Glastonbury in 2017, let alone vocalist Barney Greenway teaching Ed Miliband to do death grunts on national radio, would have been pretty much zero.
One aside from this show: at this point, I was still callow enough to be the guy who shouts requests at bands, but had figured out that they'd probably quite like it if you requested new songs instead of predictable oldies. I'm not sure why I called out for EOTMB track Necessary Evil when I did, but Barney heard and asked, "Have you been reading our setlist?" before proceeding the play that very tune. I was bloody chuffed Barney, what a total autopsy doss!*
https://www.youtube.com/watch?v=U5nqC4bSLxE
For a while, The Nexus put on a bunch of metal and punk shows. earthtone9 played shortly before they split up, King Prawn did a show with support from a band featuring my pals Tracy and Chris from the Gilamonsters (think they were called Rocket Roulette, though they changed their name at some point so I can't be sure...), and perhaps best of all, a triple header from Stoke filthhounds Charger, Icelandic hardcore crew-turned garage rockers Mínus and Brighton sludge gumbies Matter, all of whom clearly chose their names in a pre-Google era.
Let's step bravely into 2002 now, and head over to Portsmouth's Wedgewood Rooms for a show by The Icarus Line. I'd actually interviewed them the year before, but hadn't seen them live until this point. For the interview, I'd travelled up to London to meet them on a day off from playing shows. They were a curious mixture of bullish and naive: on the one hand, they'd talked of their mission to destroy dinosaur rock, but on the other, when I left them trying to figure out how to get the tube back to the place where they were staying, they seemed like sheepish foreign students on their first night in a foreign city.
Needless to say, it was the bullishness which won out. Before long, in tandem with inter-connected website Buddyhead, they were (shall I say allegedly?) spraypainting the side of The Strokes' tour bus and (no need for allegedly here, there's video evidence) grabbing a guitar previously owned by Stevie Ray Vaughan from a glass case at the Hard Rock Cafe in Austin during a performance at SXSW.
Portsmouth being rather lacking in the dead blues icon department, there were no comparable hijinks at the Wedge. Joe Cardamone didn't smash up a Cranes record** and Aaron North didn't run out of the venue to steal the Mary Rose. They did, however, play a belter, reminding me what a brilliant album their Mono was. The Icarus Line have gone on to release a clutch of outstanding albums, though I wouldn't catch up with them again for well over a decade.
Around the same sort of time, I caught The Movielife and Thursday at The Joiners. I'd heard the latter and was intrigued by their particular strain of emocore; while I can't honestly say I dig out Full Collapse too often these days, at the time I definitely rated it. It's funny to think now, given what Victory Records turned into, that I deemed it necessary to say that to friends that Thursday weren't "one of those tough guy Victory bands." I feel like The Movielife are one of those bands whose rep increased after their split, whereas in 2002 I thought their pop punk/hardcore was fun but inessential.
More essential, to these ears at least, was an STE show at what was to be their home for the last period of their existence, The King Alf. This was a pub on the edge of Southampton's famously salubrious St Mary's, just over the railway bridge from my then-home in the equally desirable Northam area of town. Looking at the dates, I was only going to shows there for less than eighteen months, before moving away to Brighton, and yet I can count nine shows there to tell you about (roughly half of what I've got left, if you need to take a breather) - and that doesn't count the Gilamonsters and Mitch Buchanan shows there, about which you will have read when I covered those outfits sometime in the distant past of this blog.
Anyway, the first show I was gonna mention was no less than the 200th STE gig, which boasted an appearance from hardcore band Mihoen! (their exclamation mark). In support were local types Disposable Heroes and Pilger, along with excellent grind/punk rabble Scalplock (more of them soon). Mihoen! were part of the perhaps rather unsung Dutch punk rock scene and sang in their native tongue, though this was certainly no barrier either to enjoying their raging thrash or getting the gist that they were definitely pretty unhappy about fascism and stuff.
It appears that it was the very next day that I headed over to Winchester to see another three punk bands play at The Railway Inn. Jimmy was visiting and I can remember Anna and Leesey coming over for the show as well. Our buddies Disoma were the openers, followed by two bands I'd vaguely heard of but hadn't actually heard: Soon The Darkness and Million Dead.
Thanks to two films and one band called And Soon The Darkness, the former are pretty hard to locate using a search engine - and that's not to mention The Darkness, whose rise must have made this lot's name pretty untenable. I also just realised that their name unfortunately abbreviates to STD. But here are the facts as I recall them: they did a split 7" with Southampton thrashcore types Parade Of Enemies and featured one Tim Holehouse, also of Among The Missing and copious amounts of solo work, on vocals. STD (sorry) were of the more anguished, un-MTV friendly school of emo; I remember Tim taking his mic out into the crowd and delivering some vocals pointedly at the table where Anna and Leesey sat chatting.
Million Dead are now, of course, primarily famous for giving this blog its name, and perhaps also for being one of the staging posts in the ascent to fame of Mr Frank Turner. I'd missed out on his previous band Kneejerk, but Million Dead definitely captured my attention. I picked up what must have been their first demo, and almost a year after this show heard their first official single Smiling At Strangers On Trains on John Peel. There'll be more on this lot at a later date, as you'd expect given they wrote the lyric '
I found this voice in my record collection
'...
As promised, let's get back to the King Alf. I have it in my head that it was the same day we got back from a holiday, possibly in Nice, that I headed over there to see Always Outnumbered and Travis Cut. As always, the latter made it worth attending the show; the former, not so much. A week or so later, there was a Hunt Sabs benefit at the same venue, this time not in the smaller gig room upstairs but in the main bar.
I can't find the flyer for this show, so I can't give you the full line-up, but it certainly boasted the debut appearance of extreme doom locals Moss, who opened the show. Moss featured Chris from The Gilamonsters on drums, alongside a couple of local youths called Olly and Dom. They would go on to become a seriously cult concern in the more demented depths of the doom scene, releasing records on Rise Above and Aurora Borealis and forging connections with Jus Oborn of Electric Wizard.
You might not have predicted all this had you been at the King Alf on May 5th 2002, when Moss opened proceedings with mid-afternoon sunlight streaming through the windows and the boozer's regular boozers more interested in watching snooker on the pub's tv screens than letting their minds get sucked into a Lovecraftian vortex by three misanthropic reprobates. As if to take the situation from amusingly awkward to active piss-take, the next lot onstage were a ska band (fellow locals Howard's Alias, for those taking notes).
Pretty sure Overton upstarts Stegel also played that day. This lot had come to the Southampton scene's attention in part from organising their own DIY shows in their Hampshire village. I never made it over, but by all accounts these gigs were off-the-hook affairs where the local kids went shitnuts for whatever hardcore or metal treats Daz from Stegel had lined up. Stegel themselves were very much a band of their time, that early millennial period where a certain strain of post-hardcore/metal was pumping out of rehearsal rooms across the land. I'm thinking of the kind of folk who'd have been listening to Poison The Well, Boysetsfire, Drowningman, Botch, Converge and the like; in the UK, earthtone9 were kind of early adopters of the sound before people like Beecher and Johnny Truant picked up the mantle.
Scalplock were certainly on the bill; as I recall, their bassist Gorkas one of the few people who had actually been paying attention to Moss earlier in the day. I must have seen this lot a fair few times in this period, and their crusty grind was always a ruddy entertaining experience.
It certainly was a varied bill, and headlining it were then-rising Welsh types Hondo Maclean. Somewhere between the post-hardcore I was banging on about two paragraphs ago and the more commercial side of emo, they suffered from being the last band on a long day, and almost certainly from not being Scalplock. Still, it was only a five minute walk home...
That May, the shows kept on coming. First, Brooklyn jazz/tech-metal types Candiria pitched up at The Joiners with the slightly less virtuoso Matter in support. Then a band very nearly named after my home county, Sommerset, played an OOMF show at the same venue. This lot had travelled all the way from New Zealand, but in truth I went to the show for a mob who'd only had to manage a journey down from The North. This was Boxed In, not to be confused with the newer outfit who've been using the monicker at the time of writing.
This
Boxed In featured my old chum Dingo, who'd relocated to Leeds or somewhere similar after the end of Minute Manifesto. The rest of the band had some pretty serious form music-wise, particularly drummer Sned, who'd been in (deep breath) Generic, One By One, Pleasant Valley Children, Sawn Off, Suffer, John Holmes, Health Hazard and no doubt a fair few others I've forgotten. As you might imagine, thrashy hardcore in the tradition of Doom, Discharge et al was the order of the day, and their discography (one 12" and a clutch of 7"s) is highly recommended if that's your bag - and, frankly, why wouldn't it be?
Before May finished, I was back at The King Alf for Milwaukee hardcore sluggers Seven Days Of Samsara, who greatly impressed me with their impassioned screamo (this being the period where you could still use that word in a positive way). I bought a CD off them with some crazy homemade product design...
I just Googled 7DOS and was quite heartened to learn that they're still going... until I read that they're playing their last shows in March 2018.
The visits to The King Alf continued with Steel Rules Die, who I can't remember too well but may have been one melodic hardcore band too many for me at the time. Far more to my taste were DS-13, a Swedish thrashcore band with a rocking attitood and a nice line in skate-orientated imagery. Their Killed By The Kids album even had artwork by Pushead, famed for both skate designs and Metallica artwork. It would appear from contemporary records that this show also featured Belgium's White Circle Crime Club, plus Boxed In, Parade Of Enemies and Pilger, which is pretty fucking rad whichever way you slice it.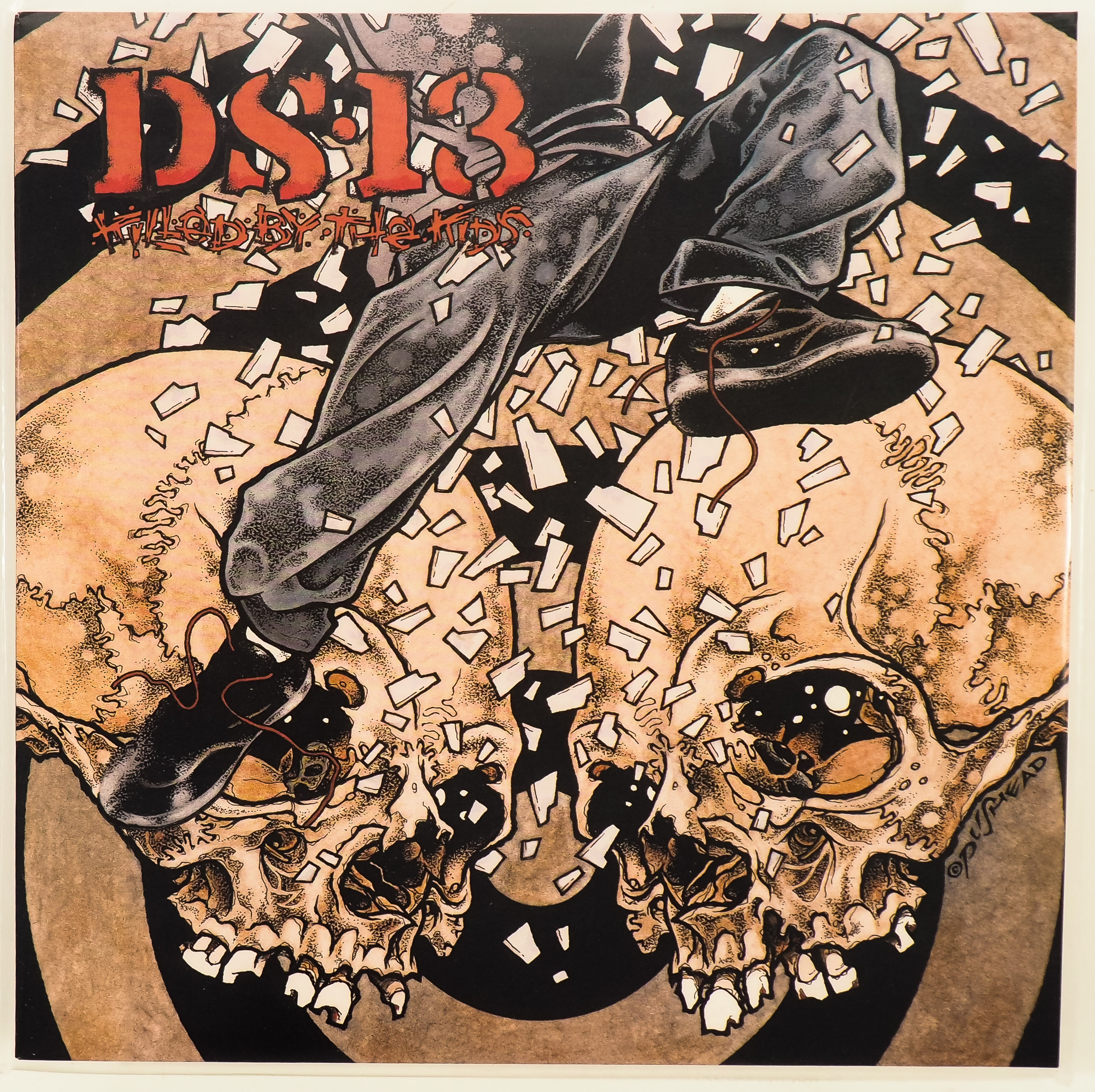 Another Dutch band, though in a very different style to Mihoen!, Brezhnev played The Joiners in August. I'm not too sure why I went, as I'd not heard them before and wasn't into any of the supports, but I'm certainly glad I did. Brezhnev played catchy, rocking hardcore punk with a charismatic frontman delivering satirically political lyrics. They didn't exactly sound like the Dead Kennedys, but were in a somewhat similar vein, which felt pretty rare in an era where things tended towards specific sub-genres rather than straight ahead, catchy punk rock.I've just listened back to North America Sucks, the album I bought at this very show, and some of it sounds a little hackneyed, but live they were a riot.
The great Humans The Size Of Microphones played The King Alf around this time. Even in a local scene not noticeably short on eccentrics, this lot were proper oddballs. The three of them would go onstage wearing these giant afro wigs; I was never sure whether, as per their monicker, these wigs were supposed to represent the foam bits that used to go on the top of a mic. Musically, they were chaotic in a way that few UK bands of the time managed, hinting at the output of hip labels like Gravity or Ebullition. Drummer John, trading for these purposes as John T Baptist, also ran Chuckalumba studios in the New Forest, a magical place where the likes of Minute Manifesto and Moss recorded stuff - and also the spawning ground of Electric Wizard's astounding Dopethrone.
Also, HTSOM had a song called I See The World Through Rose Coloured Testicles, which was nice.
https://www.youtube.com/watch?v=upjtwdL-U3E
That autumn, Fugazi came over for what would be their last UK tour. I'd been a fan since I bought Repeater at the time of its release, almost certainly because I'd heard them on John Peel. Around the same time, my tape-trading buddy Colin Campbell had done me a recording of their 1988 demo, which included tunes from their first two EPs, which I also picked up in short order. I hadn't, admittedly, kept up with their steady diet of releases since, but when Adam (and I think Rob, and surely Rich?) announced he was going to his hometown of Brighton for the first date, at the Corn Exchange, I jumped at the chance to finally see them live.
Local kids Cat On Form, some of whom I'd later get to know after moving to Brighton the following year, were the excellent support. Fugazi didn't have a set band opening for the whole tour, and I'm guessing it was the local promoters who recommended Cat On Form. On other dates, the likes of The Once Over Twice, Wolves (Of Greece), Dead Inside and Quickspace would get to play, a state of affairs which happily meant there would be no King Adora situation going on. Anyway, Cat On Form: at a point when the whole concept of emo, dating essentially from the pre-Fugazi bands Rites Of Spring and Embrace (not that one), had been co-opted and rendered corporate, this lot were the real deal, four impassioned youths dealing in emotionally engaging themes and disc(h)ordantly inventive tuneage. They were no doubt super-stoked to be playing with Fugazi, and photos from the latter's set show members of COF sat on the stage, digging their heroes. We'll have more of Cat On Form when this blog finally gets to my Brighton days.
https://www.dischord.com/fugazi_live_series/brighton-england-102002
Fugazi were, of course, incredible. As hinted at above, I wasn't familiar with the entire catalogue, but gratefully received the likes of Merchandise, Waiting Room (their rock club hit!), Repeater and Turnover, as well as Furniture, a tune which had been on that original demo but had only recently been released as a non-album 7" prior to their then-current album The Argument. Clearly, the rest of the exhaustive but never exhausting 26-song set was studded with as-yet unfamiliar gems, and on returning to Southampton I immediately set about buying the entire catalogue. The set had left such a mark on us, meanwhile, that we went and got tickets for the last date of the tour, their third consecutive night at The Forum in London, two weeks later.
I believe the Buff Medways supported, although a nagging doubt in the back of my mind suggests that it might in fact have been Winnebago Deal. Either way, we didn't get there in time to catch the openers, but were on hand for another colossal Fugazi set. As was their wont, they played a different selection to the one aired in Brighton, so we got Sieve-Fisted Find, Margin Walker, Shut The Door and Blueprint along with evergreens like Merchandise and Waiting Room.
https://www.dischord.com/fugazi_live_series/london-england-110402
I could, quite happily, have continued seeing Fugazi live every fortnight for the rest of my days, but in fact this last London show was the last they would play. Curiously, the band maintain they are on hiatus rather than officially done, but their reunion somehow feels less likely than almost any other, more officially-disbanded outfit this side of The Jam or The Smiths (bands, I would argue, that Fugazi rival in terms of lasting legacy and influence).
In November, Cathedral and Electric Wizard played together at the Marquee. I have a feeling all four of the current line-up of The Gilamonsters might have made it up for that one; it certainly would have made sense, as these two bands were pretty much our biggest influences by this point. According to seltlist.fm, the Wizard's set consisted of a mere three tracks, but what three tracks: Funeralopolis, We Hate You and Supercoven!
Cathedral, of course, featured Lee Dorrian, previously the singer in Napalm Death for one and a half albums and two Peel sessions. Although I'd barely got into Napalm when Lee (and guitarist Bill Steer) left, I remember feeling pretty bummed that the band had fallen apart. Cathedral initially passed me by; when their debut, Forest Of Equilibrium, dropped in '91, all I really knew was that they featured Lee and some blokes out of Harrogate thrashers Acid Reign (who I loved, even wearing a baseball cap of theirs for a mercifully short period in my mid-teens), but played tunes of a tempo quite opposite to their old homes. It wasn't until '93's The Ethereal Mirror that I actually heard them, while promo tapes I got sent as a member of the Earache mailing list meant I heard (and seriously dug) Vampire Sun and Hopkins (Witchfinder General) from '95's The Carnival Bizarre.
Still, though, it was only really as a result of my bandmates Jimmy and Chris being huge Cathedral devotees that I got into them properly. As briefly mentioned in a previous chapter, I'd seen them play the Underworld with Spirit Caravan back in 2000; in between these two encounters, they'd released Endtyme, which mirrored Napalm's Enemy Of The Music Business by returning to first principles after some late-90s disorientation. First principles in this case, however, was the bleak, claustrophobic doom of Forest Of Equilibrium, which I'd finally heard in Chris's car on the way back from a Gilas practice or gig. Obviously the boisterous disco doom tunes of later albums still got a playing at the Marquee, and rightly so: I certainly wouldn't want to go see Cathedral and not enjoy the spectacle of Lee pretending to strangle himself with the microphone lead to the groovy sounds of Hopkins (Witchfinder General). But there was certainly a sense, as with Napalm, that Cathedral were again a band to be taken seriously.
And so we head into 2003, when I possibly saw Amen at the Wedgewood Rooms. I mean, I definitely saw Amen at the Wedgewood Rooms at some point, and history has recorded that they played there in February 2003, so let's just assume that was the time I saw them there.
Amen were a strange bunch. Their self-titled debut had come out in '99; given that it was on Roadrunner and boasted Ross Robinson production, it had a certain air of nu-metal about it, while the band's line-up included previous members of Ugly Kid Joe and Snot (a band highly rated by some, but who never meant diddly squat to me). I've recently revisited it and it's really more of a punk metal rager. The drums have that shitty Ross Robinson sound, and not every song comes off, but in general the album lives up to the countercultural vibes of its rural cult cover artwork. That said, despite a decent level of support from Kerrang!, it would have taken a brave pundit to predict that this was a band who'd end up highly acclaimed with their next release.
Weirdly, though, that's what happened with 2000's We Have Come For Your Parents. As alluded to earlier, this hit in the same period as breakthrough albums from At The Drive-In, Queens Of The Stone Age and ...And You Will Know Us By The Trail Of Dead, allowing Amen to be considered as part of a movement more sympatico than the dreaded nu-metal.
I'd wager this is the first time anyone's written three paragraphs on Amen without mentioning their frontman. Once described as a man resembling an action figure of himself, Casey Chaos was a slightly ludicrous character who nevertheless embodied a winning combination of nihilism and absolute commitment to rock'n'roll. He was a man of taste, too; a compilation CD he compiled for Kerrang! in 2001 featured the likes of Discharge, Iron Monkey, X-Ray Spex, Void, The Birthday Party, Scream and Eyehategod, as well as some certified bangers from the alternative rock club you always wish existed: Fuel For Hatred by Satyricon, Refused's deathless New Noise and City Of Angels by The Distillers.
Casey Chaos might have been slightly silly, then, but something about his wild-eyed delivery meant you couldn't help but fall for the band's combination of glam metal and hardcore punk, with Amen often sounding like the first two Decline Of Western Civilization movies playing at the same time.
I'd move to Brighton with Anna in June 2003, but there were a few more shows before that. One of the security guards from my work played the Joiners with his band Slaughter Of Souls, who fans of Swedeath might not be surprised to learn were quite keen on At The Gates. Finnish post-punk outfit Echo Is Your Love played the King Alf, as did Skulls And Flames, a pretty rad Dutch thrash punk band. As previously related, there were final Southampton shows from The Gilamonsters and Mitch Buchanan. And then I was off along the coast...
Hang on, though. Next time I'll rewind and let you know about the festivals I went to between 2000 and 2003, which will include friends being starstruck by the bloke out of Six By Seven, me shouting a request in vain at Shellac, and the time an over-optimistic power nap robbed me of the chance to see Venetian Snares. Don't worry, it probably won't get written for a while, so you've got time for a snooze.
*I didn't just go mental there, that was an obscure Napalm Death in-joke.
** Indie-goth band Cranes were the most famous band I could think of to come out of Portsmouth.