Those of you who've been reading this blog over the months will no doubt have formed the opinion that I'm very much my own man when it comes to gig-going. "That guy," you'll have said to yourselves, "If he wants to go and see Jacob's Mouse play at the Joiners Arms, he just bloody well does, doesn't he?" And indeed, I did.
But through '97 and '98 I started going to shows because other people wanted to go, namely Steph and my workmates. It's just good form to accompany your other half to entertainments of their choosing, while a shared passion for music meant that gigs helped me bond with my new colleagues.
One of the hot new bands of the old radar back then was Placebo. They combined qualities from US alternative bands with a decadent, very European feel, and their ostentatiously androgynous image and lyrics were splendidly primed and timed to wind up the Loaded lads. Steph, Simon and I were all into their first album; I'd heard their first few singles while still at Uni, and the full-length came out in summer '96, the season which saw me and Steph get together and Simon move back from Canada. Where our tastes didn't always converge - I had to beg our friend Rupert to take back the copy of Jagged Little Pill he'd lent us when the other two played it to death - this was definitely an album we could all agree on.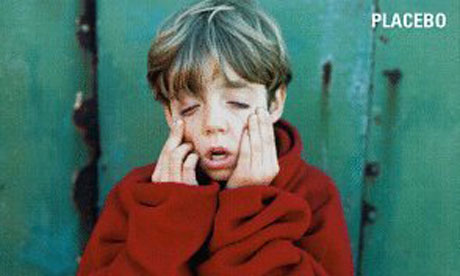 Obviously, Molko's vocals could put people off - his high-pitched Transatlantic accent would never be to everyone's taste. What people often overlook is the quality of his guitar playing, which took influences from the underground (particularly Sonic Youth) and twisted them into mainstream-friendly shapes. They went off the boil pretty much straight after that debut - the deviant nursery rhyme of Pure Morning, the first tune off the next album, proved rather trying - but I was happy to go and see them at Southampton Guildhall. In comparison, I was rather less convinced by the idea of going to see Bush there.
When their debut album, Sixteen Stone, came out, I quickly wrote Bush off as a bunch of Nirvana copyists who'd almost entirely missed the point of Nirvana. Sure, we all know how the latter story ended, but for me their humour, goofiness and ear for pop were all as important to their identity as the angst and depression. Not so with Bush, essentially the UK outpost of the dreary post-grunge movement which included similarly uninspiring American counterparts like Live and Creed.
Bush were playing Southampton in support of their second album, Razorblade Suitcase. If Razorblade Suitcase had been the name of a band on Too Pure or Clawfist getting played by John Peel in 1993, I would have thought that was a pretty cool name. As a title for a second album by grunge arrivistes Bush, it was obviously terrible. However, I was intrigued by the fact that Steve Albini had produced - sorry, "recorded" - it. As well as playing in Big Black, Rapeman and Shellac, Albini had recorded some of my favourite albums, like PJ Harvey's Rid Of Me, Pod by The Breeders, Sea Monsters by The Wedding Present, pretty much everything by The Jesus Lizard - oh, and Nirvana's In Utero. Obviously, his involvement was just another job, not his personal endorsement, but his techniques still made this a more interesting sounding record, and I grudgingly enjoyed their show at The Guildhall.
Let's move on to my workmates. I swiftly realised that they were a bunch of misfits, outsiders, cynics and eccentrics. In other words: my kind of people. After 16 years, working in five different stores in four different towns alongside several hundred colleagues, I'm gratified to say that this has generally remained the case.
With no retail experience, I was cast into the stockroom, where I would spend the months leading up to Christmas 1996 stickering up multiple copies of Spice by The Spice Girls, Blue Is The Colour by The Beautiful South and A Different Beat by Boyzone. My immediate boss was Wayne, whose attitude towards his own position can be summed up by his reaction when I introduced him to Steph as my boss. "I'm not his boss!" he quickly cried. Nevertheless, I'm sure his support helped me get kept on after Christmas, and he became a good friend. In March '97, he drove me, Steph and Simon over to Portsmouth to go and see 3 Colours Red.
This bunch of rockers - or Britrockers, as we were expected to call them in those days - were frequently described as a baby Wildhearts, due both to similarities in their sound and the presence of co-frontman Chris McCormack, brother of the knee-dislocating, disaster-prone 'hearts bassist. Less accurately, label boss Alan McGee, no stranger to hyperbole, described them as the best rock band since the Sex Pistols, or something similar.
Obviously, they weren't, but they made for a pretty decent night out. In support were Hurricane #1, a new band who I was excited to learn featured Andy Bell out of shoegazer faves Ride. Caught up in the moment of discovering an exciting new band, none of us noticed that they only had one good song (Step Into My World), and when they played a headline show at The Joiners not too long afterwards we made sure we were there.
It's funny, now that Eels are viewed as a cult-ish solo artist beloved of Mojo and Uncut readers, to think that there was a time when they were a HOT! NEW! BAND! Back in spring '97, they seemed to occupy a space somewhere between the playful invention of Beck and the mordant gallows humour of the depressed, with two Top 10 singles under their belts courtesy of Novocaine For The Soul and Susan's House. Steph, myself, possibly Simon and a bunch of people from work (definitely Wayne, and I think Beaka, Kirsty, Paula...maybe Phil?) made a pilgrimage to the Astoria to see them, the first time I'd gone to London for a show in several years. It wasn't the first time Eels had played in London, but it still felt like we were getting in at the start of something. The trip up to the smoke had been largely at Wayne and Paula's insistence - they both had a good radar for HOT! NEW! BANDS! - but everyone dug the show and the album Beautiful Freak became a workplace favourite. They've made harder, weirder, more mature and more Tom Waitsy albums since, but none have quite had the pop charm of that first record.
The workplace also allowed me access to a few shows I wouldn't have otherwise attended. Unfortunately, this included going to see Space. My colleague Darren had got himself on the guestlist for their gig at the Guildhall, and couldn't go, so suggested I "become" Darren for the evening. I'm not sure why I went - I'd never been a fan of their novelty indie pop and had even slagged them off during a short-lived stint DJing on a radio station based on Southampton's Marlands shopping centre (god, that's a whole other story). They'd also been in the shop doing a signing that day and had seemed like a humourless bunch. But I think Simon quite liked them, and I could get him in as a +1, so we went. And it was awful, the lowest of many low points coming when singer Tommy Scott stood on a podium (he was quite short) to duet with a giant video of my old chum Cerys Matthews on The Ballad Of Tom Jones. Sometimes, when people ask me about the worst gig I've ever been to, Space come to mind.
We used to have regular quizzes in staff meetings, and being something a smart-arse (and this being back in the day when music was still the primary concern of the shop) I would sometimes win. As this was also the time when promotional goodies and freebies flowed like rainwater in a British summer, I found myself on the receiving end of a few decent prizes. I remember being awarded a promo of Daft Punk's Homework album, which Steph and Simon did not get on with at all. They used to compare Da Funk to a car alarm, the non-electronic music fan heathens. Thinking about it, I should have played it as much as they'd played Jagged Little Pill the summer before.
I also scored a couple of tickets, the first being a trip to see The Orb at Portsmouth Pyramids. I hadn't seen them since what was - for me, at least - a mind-expanding turn at Glastonbury '93, and my old school mate Simon was currently living at his folks' place in Cosham (a suburb of Pompey, I guess), so it sounded like a great idea for a night out.
However, I hadn't counted on the Super Strength Strongbow.
Simon had very generously procured a four-pack of said beverage - but he was driving. It was, therefore, my duty to neck three of these before we went to the Pyramids. I think you can probably see where we're heading. We arrived at the venue while the warm-up DJ was playing. I latterly discovered that this might have been Witchman, but, frankly, I have no fucking clue. Before The Orb even took to the stage, I was so hammered that I was begging Simon to take me home. To his eternal credit, he drove me all the way back to Southampton, while I proceeded to vomit over myself in his car. On pulling up outside our place, I refused to believe that I was actually home - by this point I was angrily demanding to be taken back. Simon had to get the other Simon out of bed to convince me that I was in fact in the right place. Getting out of the car, I tripped over my seat belt and suffered a minor kerb/head interface. And so it was that when Steph returned from her own night out, expecting me to have stayed over in Portsmouth, she found me passed out in the bed covered in blood and vomit. The next day, I told everyone at work that the gig had been great, ashamed that I'd squandered my free tickets.
2012 update: I'm still friends with Simon. I don't go out with Steph any more. Super Strength Strongbow is no longer on the market.
Before we get to my next - rather more responsibly handled - work freebie, I should mention that Steph, Simon and I moved house in Spring '97. Factors in this decision included our lack of a garden and the concern that our landlord might not have been particularly great, this latter point emphasised by the fact that for months we'd had to avoid certain parts of the kitchen floor (right outside Simon's room) because there were no floorboards and we would have found ourselves in the downstairs flat. So we legged it to a house which we would share with Wayne and our friend Steve, who went out with Steph's workmate Louise. (These last two might be the only couple I know from those days who've actually lasted the distance, no doubt helped by the fact that they're both bloody lovely). There are a couple of photos somewhere of this original line-up of the house, with us all sat on the floor larking about like we're doing a promo shoot for some down-at-heel UK remake of Friends, or perhaps a version of This Life where none of the characters had either money or any understanding of the concept of career aspirations. We'd moved into Northam, known locally as one of the town's dodgiest areas, but I personally never got any hassle on our street. OK, Steve's car got broken into on the first night, but he had left a bunch of valuables on the back seat. And a gormless fellow continually knocked on the door to ask whether the house's previous occupant was in, never remembering that we'd already told him umpteen times that he'd moved out. I guess he was still getting his drugs from somewhere. And there was Hell's Angels graffiti opposite our house, but that was on the other side of the railway line. But essentially, this area really wasn't as dodgy as it was made out to be, and I'd carry on living in the house, with an ever-changing roll call of housemates, until I moved out of Southampton six years later.
My uni mate Gail helped us out by giving us a lift to pick up a couple of kittens (another reason we'd wanted to move), and to say thanks I invited her along to my next quiz-won freebie: Tribal Gathering '97. Well, I wasn't going to take Daft Punk haters Steph and Simon, and Wayne and Steve were definitely both rockers not ravers.
Now, at yer rock festivals, I'd generally work out some sort of itinerary to get round and see all the bands I was into - even if that never ended up happening. But at Tribal, I was more into the idea of taking in the general vibe by wandering around the different, New Age-ily named tents and seeing where the day took me (Gail had her own preferences, so we ended up splitting up for most of the festival). Consequently, I eschewed lots of big names - including Kraftwerk, Orbital and that there Daft Punk - in favour of frugging to whoever was on in tents called things like "Equator" (drum'n'bass) and "Muzik's Tropic" (happy hardcore, and the friendliest vibe of the whole place, thanks largely to everyone looking like Sharkey on the cover of a Bonkers compilation).
I wandered into the Trans Europe tent to see what was going on. What was going on was the Two Lone Swordsmen Soundsystem playing what sounded like whalesong to nobody at all. One of the few proper appointments I kept was to see John Peel in the Pacific tent. First, I caught the end of Cornershop's set, which I think was a reading of 6AM Jullander Shere. At this point, with Brimful Of Asha yet to be released, yet alone remixed by Fatboy Slim, their billing was pretty brave and certainly forward-thinking, though at the year's end Brimful... topped Peely's Festive 50. Peel played some typically unsuitable rekkids (I'm pretty sure I heard Status Quo and, of course, The Fall, though I could be wrong) which people generally couldn't dance to and everybody loved him anyway - I'd recommend checking out his Fabric mix CD for a taste of the sort of things he'd play when invited to these events. The other act I can remember was Roni Size launching his band Reprazent. Again, their Mercury-winning album New Forms was yet to be released, but there was clearly something pretty special going on. I was, and remain, sceptical that drum'n'bass needs live vocals, "proper" instruments and a jazz influence, but taken on their own merits - as a band rather than as, er, representatives of a genre - they were an exciting proposition. I'm still not sure what "Step to the rhythm made out of brown paper" means, though.
I can't help thinking that 1997 was a more innocent time for dance festivals. These days there'd be a stage dedicated to the "EDM" of Swedish House Mafia and the 2K12 Unlimited sounds of Guetta and his idiot herd, and another full of the bubblegrime and popstep which has taken the UK Urban scene into the charts at the expense of its soul. And somewhere on the site, instead of John Peel, Zane ruddy Lowe would be playing.
Tribal Gathering wouldn't be my only festival of that summer, of course. That's right, there was also Power In The Park, which sounds like some sort of far right rally, but was in fact the local radio station's free show on Southampton Common. The South's Number One Hit Music Station, Power FM, was responsible for dragging various chart stars of the day down for a summer day's frolic amongst Southampton's pop kids... and a bunch of my mates, lured mainly by the free entry and the fact it was a nice day to drink in the sun. I remember Sash! appeared and played Encore Un Fois, before an over-eager local deejay whipped the crowd up into a frenzy to demand Sash! come back and give us another. Unfortunately, nobody had prepared Sash! for this eventuality, and consequently Germany's Number One Hit Music Producer had only brought one DAT tape. He was therefore forced to play Encore Un Fois encore un fois.
Ocean Colour Scene headlined and we pretended that they were somehow better than the other acts because they were actually playing live and they wrote their own songs and blah blah blah. They were, in reality, just as shit as the rest of the day's entertainment, with the added horror of having at least one song which made the image of Chris Evans doing something wacky appear, unbidden, in your mind's eye
Oh yeah, there was another festival we went to that year, wasn't there? Must have been trying to shut it out as a traumatic memory or something. Because, believe me, Glastonbury '97 was more traumatic than coming home to find your boyfriend passed out in the bed covered in blood and vomit.
Yeah, I know, it was a bit muddy, get over it. But in what is now terrifyingly close to two decades of going to festivals, I've never been to one which was so fucked over by the weather as this one. In '95, I'd left Glastonbury with sunburn. This time, it was more likely to be trenchfoot. The second stage was sinking on the Friday, so a bunch of bands (including Kenickie, more's the pity) had to cancel. Me and Steph (for it was just us two) spent most of the day wandering through mud feeling sorry for ourselves, eventually bumping into Matt from Smog UK and his girlfriend (whose name has unfortunately disappeared into the mud of my memory) and hanging out with them for a while. It was in their company that we spied, from the top of what might have been the ricketiest Big Wheel in the south of England, that the second stage had finally opened, with Placebo doing their thing onstage. We rushed over, but had basically missed them, darkening our mood further. I think we managed to see Beck and maybe Smashing Pumpkins on the main stage, but Friday was basically a write-off.
On Saturday, the rain had at least eased off, and we were up early (in festival terms) to see The Wannadies open up the main stage. Later in the day, I remember watching Stereolab on the second stage, having to constantly lift my legs up and down to prevent my wellies getting stuck in the mud. It might have been this day when we went to see Christy Moore, an old favourite of Steph's Dad, in the acoustic tent. But essentially, Saturday was all about Radiohead.
Radiohead at Glastonbury in 1997 is arguably the only gig I've been to which regularly crops up in "Top 100 Gigs Ever!" lists. Type "Glastonbury 1997" into a search engine or YouTube and the Oxford band's name will appear. Even then, it was almost a cliche - when I returned to work on the following Tuesday and said that Radiohead were the best band I'd seen over the weekend, Assistant Manager James "Lord" Rumley did one of those stifling-a-fake-yawn mimes. But, the thing is, it was a genuinely great set from a band at their absolute peak. Whatever you think about the albums they went on to release - and I'm certainly a fan of Kid A - the summer they released OK Computer was the very best time to see Radiohead. There were a bunch of spine-tingling moments - a rare performance of Creep (semi-disowned by the band at that point), awkward tunes like Paranoid Android ("Can you turn on the lights so we can see the people?") and Climbing Up The Walls going down a storm, fireworks for No Surprises, the set closing with Street Spirit. Is it an exaggeration to claim that they almost single-handedly rescued the festival from a collective mud-damaged bad mood? Probably, but they certainly perked us up.
I think it was this night when we then went to go catch a late set from Massive Attack on the Jazz World stage, only to find it was running over an hour late. Oh well.
Most of Sunday was spent on the second stage, where we'd have seen Super Furry Animals, Pavement and Live (not my choice!) before Mansun tried, and failed, to play a set due to some sort of problem with the sound. As mimsy a band as The Bluetones are, they at least managed to end the festival with a feelgood set.
And that was that... except, when we returned to the quagmire-free streets of Southampton, I decided to fire off a missive to Melody Maker about our experiences. The main impetus was the way Michael Eavis kept banging on about "the Blitz spirit" in relation to the kids who managed to stay the course of the weekend. I found this pretty patronising, and felt like there had been some pretty serious issues with the festival. Obviously, nobody can control or second guess the weather, but it didn't feel like sufficient provision had been made for the event of heavy rainfall. There were other issues too - an undercurrent of violence was steering the festival's lawlessness in an unpleasant direction, with stories circulating that gangs armed with baseball bats were patrolling the perimeter extorting money from the folks attempting to jump the fence. I was positive about Radiohead and some of the other bands, but the general tone of the letter can be gleaned from the fact that I used the word "fiasco" twice.
To my surprise, the letter wasn't just printed, but was awarded Letter Of The Week. This prompted a reply from Michael Eavis, where he defended his running of the festival and closed with a comment along the lines of, "Give us another try next year, Olly. If you can get a ticket, that is." The following week, somebody wrote in sticking up for me and accusing Eavis (again) of being patronising.
I didn't go back to Glastonbury the following year, but I did the year after that. My attitude towards Eavis has softened - I'm sure he did the best he could that weekend in 1997, and while I haven't been to the fields of Worthy Farm this century, I'm glad the festival's still there.
Well, I think that's more than enough for now. Next time we'll be back seeing scuzzy indie bands and DIY punks in the Joiners and making a few new friends...