Up until the early summer of 1996, my life had been mapped out in a perpetual routine of terms and holidays. The places I spent those terms might have changed every few years, but otherwise this system had felt as constant as the changing of the seasons as far back as my memory could stretch. The prospect of finishing university had, therefore, been an unnerving one.
By the stage of my life at which I'm currently writing, I have set replies to certain questions, pat comments on particular subjects. Their repetition does not, however, mean that they aren't true. So: the thing about doing an English Literature degree is that it really doesn't prepare you for any actual jobs out in the real world.
While many of my friends had done degrees which led directly to careers, or at least had plans for travelling or similarly moving on, I finished university with no clue as to what I should do next. My housemates were all returning to their hometowns, and there was a real chance that I'd have to do the same - back to living in a village without the ability to drive, where my most recent holiday job had been placing three dried strawberries in pots of supermarket trifle, for eight hours. Welcome to adulthood.
Happily, I escaped this certain fate thanks to a girl I'd started seeing a few months before the end of university. Her name was Steph, and in a very real sense I owe everything that's happened since then to her.
That summer, Steph, her brother Simon and I went to Reading. Looking at the line-up for that year, I have to admit that I probably missed a lot of the good stuff in favour of the average. On the first day, for example, we'd have seen Weezer, Offspring and Rage Against The Machine, but not Rocket From The Crypt, Sebadoh or Screaming Trees. Weezer are a band I've never been massively into, which has often left me feeling like some sort of social outcast; despite never owning their debut album, I know it inside out from its constant playing at house parties since the day it came out. The impression left on me by Offspring can probably be summed up by the fact that, before researching this, I'd totally forgotten that I'd ever seen them. Rage would have impressed me more a couple of years earlier, or indeed five years later, but at this point I was pretty bored by them, and I think we just watched them from the far end of the field. The heady days of 1993, when Simon Hildesley bought their debut album (on tape, natch) in London and I had to start speaking REALLY LOUDLY to his mum in the car on the way back whenever Zack De La Rocha started swearing, were long gone. I still liked political punk and hip hop, I still liked American alternative rock (though more along the lines of Pavement by this point), and I still liked metal, but somehow Rage's shtick seemed out of place by 1996, too ham-fisted. Anyway, the Democrats were in power over there, the Tories were on the way out over here, we weren't involved in any major wars, everyone knew racism was a bad thing, life was good... Like I say, they started making more sense a few years later...
I took Steph and Si to see 12 Rounds on the third stage, because I'd really dug their trip hop/rock-styled album, but they (the band) seemed nervous and all over the place, and I made a point of not dragging my companions to many other bands they'd never heard of before. I mean, I got the impression they weren't that keen on a Fuzzy Logic-era Super Furry Animals on the Saturday, but Simon was much more impressed with my old chum Cerys and her Catatonia (and did we see Salad as well? I think we did, you know). I seem to remember having a burger while Kula Shaker played. I think we opted for Dubstar over Black Grape for our Saturday night headliner. And people say festivals have bad line-ups these days! Sunday had a great main stage set from Compulsion, followed by Moby's unlikely rock make-over, and also Lionrock and Baby Bird on the second stage. The Stone Roses closed the festival with a set which has gone down in history as the absolute nadir of their career, with Ian Brown's voice so painfully out of tune that we turned away and sat in a place where Underworld's techno dulled the horror.
Not a classic festival experience, then, but it was still good to take Steph and Simon to their first UK festival (I think Steph, at least, had been to the Torhout-Werchter festival in Belgium). I think they enjoyed it...
I still had some business to finish off for The Edge, interviewing up-and-coming indie band Mansun when the played The Joiners in September. I had a bad head cold and hadn't done much research on them, beyond what I'd read in the press and the singles I'd heard - Egg Shaped Fred, Take It Easy Chicken and Stripper Vicar, the last of which had taken them into the Top 20 at the time of the show in question.
What I'd read in the press suggested that Mansun were a bunch of lads up for drunken shenanigans. They'd lost a couple of members since first coming to light, and seemed to spend photo shoots larking about. What I'd heard suggested that, while they displayed a nascent ambition musically, they were letting themselves down with some irritatingly zany lyrics - I mean, just look at those song titles again. Who did they think they were, Space?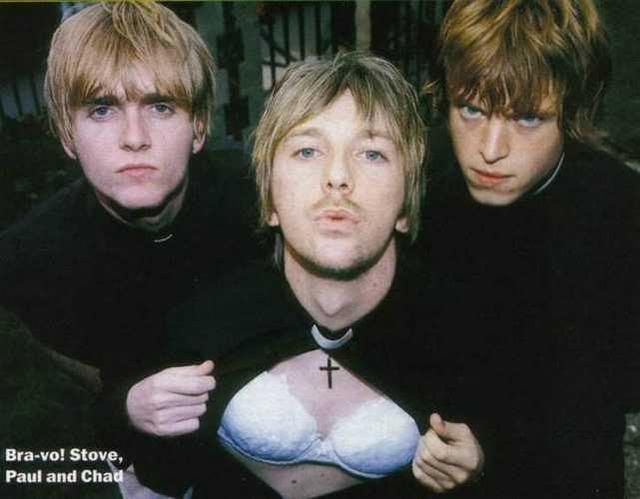 At the very least, calling a single Stripper Vicar should indicate that a band don't take themselves too seriously. WRONG. Frontman Paul Draper and, to a lesser extent, guitarist Chad (bassist Stove, who looked like our mate Owen Millard, was absent) gave the impression that venues like The Joiners and student papers like The Edge - and, by extension, your correspondent - were very much beneath them. To be fair, as I've admitted above, I wasn't too well prepared, but they were culpable in the impressions I'd made of them beforehand, and certainly could have displayed a little more humour. They only really got animated when talking about their favourite bands, citing Duran Duran and Faith No More as touchstones. This was clearly intended to separate them from the sort of Britpop/Lad-rock outfits with whom I'd lumped them together; bizarrely, it also functions as a prediction of the sonic make-up of the band Lostprophets, at the time of this interview still labouring in Pontypridd hardcore bands called things like Public Disturbance.
I didn't bother hanging around for the gig, due to a combination of my cold and the poor impression Paul Draper and Chad had left on me. Their next single, Wide Open Space, turned out to be their biggest tune, helped in part, I always thought, by the fact that the then-new Channel 4 soap Hollyoaks seemed to play it a lot, perhaps due to Mansun hailing from the show's Chester location. On its way to becoming a late-90s festival anthem (and the Mansun track which will habitually turn up on compilations called things like 101 Indie Hits or Britpop Anthems), it helped take their debut album Attack Of The Grey Lantern to No.1 in early 1997. I saw them at that year's Glastonbury - well, sort of. We'll get to that fiasco in due course.
The next significant thing which happened to me in '96 was getting a job. I'd already put in some time trying to sell double glazing, for the most part unsuccessfully, and done one shift for October Books running a stall selling books to English students at the university's posh new arts campus (I spent part of my earnings on a great AC/DC tribute double single featuring Shellac, Big'N, Brise-Glace and US Maple).
One of the numbers I cold called for the double glazing company turned out to be a high street music retail chain (they passed on the offer of new windows). Ironically, I was at the store a few weeks later having applied for a Christmas temp vacancy. The manager took the piss out of me for wearing a suit to the interview, but took me on to work in the stockroom. I was glad to have a job which I actually wanted to do, and figured it would give me some breathing space to work out what I actually wanted to do with my life. I mean, it was only a Christmas job, it wasn't like I was gonna be there forever.
Yeah, right...
NEXT TIME: punk shows at the Joiners, including my first STE festival... un-punk shows with Steph and my new workmates, including Eels and 3 Colours Red... Tribal Gathering... and the hell on earth that was Glastonbury 1997...