Before we get onto business as usual - Urusei Yatsura at Portsmouth Wedgewood Rooms, that sort of thing - I want to announce a slight change of direction for this blog. I've been trying to figure out how to put this, but things round here have gotten a bit... soap opera-y. Which clearly isn't a word.
I suspect that the majority of people reading these blogs do so because they enjoy sharing in a bit of musical nostalgia. Going on about my relationships is therefore something of a double misjudgement - of little interest to people who weren't intimately involved with me, and potentially upsetting to those who were.
Consequently, I've made the informed decision to cut that shit out - and, for good measure, I've also removed several passages from the last few chapters.
Or, as it says on the back of Big Black's Heartbeat 7": "NO LOVEY-DOVEY SHIT!"
So, it's purely for your information that I mention that, as this blog starts somewhere in 1998, I'd split up with Steph and started going out with Clare, with whom I went to go and see, yes, Urusei Yatsura at Portsmouth Wedgewood Rooms.
In support that night were the mighty Prolapse. It's worth mentioning at this point that a Google Image search for this lot throws up some pretty horrible images. And as for YouTube...
I seem to remember someone in the music press comparing the onstage relationship of co-vocalists Scotch Mick and Linda Steelyard to domestic abuse. Now, this was rather over-egging the pudding, as well as making light of a horrible thing, but there was certainly some tension between the tall Scot and the demure Englishwoman. The songs where Mick took lead vocals were Fall-esque rants, while Linda's tunes were more akin to the melodic Krautrock of Stereolab - in the case of single Autocade, so poppy that Mick wouldn't even sing on it. The best of their songs played on this juxtaposition to carve out a sound that was uniquely Prolapse. Perhaps a more suitable comparison for the pair's demeanour would be to the stuff of kitchen sink dramas, not least because Linda looked like she could have starred in one.
These days, Mick works as an archaeologist, while Linda is apparently writing for a Leicester newspaper. Here's a link to her reviewing a breakfast:
http://www.thisisleicestershire.co.uk/Entropy-Leicester/story-12030522-detail/story.html#axzz2a4Vbg7oB
On to Urusei Yatsura, then. It's worth mentioning at this point that a Google Image search for this lot throws up an awful lot of manga. And as for YouTube...
The late 90s was the scene of a boom in Scottish music, but over the years Urusei have faded in the public consciousness in comparison to their neighbours Mogwai, Belle & Sebastian, Arab Strap and The Delgados. That's OK, though, as theirs wasn't a sound designed for canons or legacies; it was riot of trashy pop noise which lived in the moment, fuelled by the most bubblegum moments of Sonic Youth and imagining a parallel universe where Sebadoh and early Pavement possessed the irrepressible spirit of Come Out 2Nite-era Kenickie. Somehow, in
this
universe, the real one, they'd even managed to hit the Top 40 (at No. 40, natch) with their single Hello Tiger. Live, they were as much fun as everything I just wrote would suggest. Maybe even a little bit more.
Sometime in the Autumn of '98, I decided to give Kenickie another chance after their lacklustre set at Reading (see last time). My ex, Sophie, was visiting and met Clare for the first (only?) time at this show in our old stomping ground of Southampton Uni. Kenickie brought a none-more indie bill with them, with Spraydog and Velocette on hand to remind us of the headliners' indie credentials. Maybe this was why they were so much better that night than at Reading... or maybe it was just that, unlike the audience, they already knew they were splitting up at the end of the tour and were determined to go out all guns blazing.
As everyone knows, Lauren Laverne went on to do a single with Mint Royale and then found proper fame as a DJ and TV presenter. Her brother Johnny X pursued a solo career as J Xaverre and has been both member and producer of a clutch of North Eastern bands over the last decade. We'll meet Emmy-Kate Montrose and Marie Du Santiago again before this chapter's done, and Spraydog too...
On to a rather bigger band, then, and one which had certainly been an influence on Kenickie in the past. As previously discussed round here, I'd had an up-and-down relationship with the Manic Street Preachers. Initial interview/photo-based distrust giving way to enjoyment of their sparky glam-punk singles; minor disappointment at the more measured second album; interest re-piqued by the dark achievements of The Holy Bible. Younger than me, this was the point at which Clare and her sister Sarah had discovered the Manics, and through them I realised the real significance of the band. While they influenced kids in the usual ways pop bands do (clothes, haircuts, music tastes etc), they also introduced them to art, literature, politics and philosophy, the quotes adorning their record sleeves amounting to a bibliography ("Libraries gave us power", indeed...) Add the intelligent way with which they dealt with teenager-relevant issues, and it's no wonder that people like Clare and Sarah were so consumed by Manics fandom. And so it was that I ended up going to see a band I'd originally written off as silly sods at Bournemouth International Centre in December '98.
In support were Catatonia, who'd certainly come a long way since I'd met Cerys at the Joiners two and a half years earlier. Second album International Velvet had hit the top spot in the charts in February, something which had initially made me happy. It was, however, a record which seemed to have an in-built obsolescence. Partly this was because its singles were the sort of catchy which becomes irritating after repeated listening, but also because they tended towards Zeitgeisty lyrical references which simply couldn't stand the test of time. Road Rage and, in particular, Mulder & Scully seemed written with a future "I Heart The 90s" show in mind. All that said, Cerys was still an engaging frontwoman, who'd made the leap from small venues to International Centres with ease and charm. After International Velvet, it was all downhill for Catatonia, but - like Lauren Laverne and so many other Britpop refugees - Cerys parlayed her charisma into a career as a DJ and journalist, while pursuing an intermittent solo career.
The Manics were also in markedly different shape to the band I'd last seen at the Anti-Nazi League festival in '94. Most obviously, they were now a man down, with Richey's disappearance less than a year later. Losing their talismanic (no pun intended) guitarist couldn't help but affect the band's direction. Let's face it, given the band's closeness, as childhood friends whose career had been marked by a more-than-usual "us against the world" demeanour, it couldn't be anything less than shattering, and in many ways it was incredible they were even able to continue. But it was more than just sympathy which made their comeback album Everything Must Go such a success. Classic rock, Phil Spector-era pop and Motown influences made it an incredibly accessible album - almost laughably so in comparison to The Holy Bible - and first single, A Design For Life, was a manifesto delivered with a grace the band had rarely exhibited before (when I first heard it, on Radio 1, Mark Radcliffe and Lard had a conversation about whether it sounded like Def Leppard. It didn't.). They still had their spikier edges - nobody else in Britpop would write about the suicide of a photojournalist, let alone release said song as a single - but Everything Must Go was a sleek, powerful modern rock record.
By the time we saw them in Bournemouth, they'd released another album, This Is My Truth Tell Me Yours. Like its title, it was slightly awkward, a band fumbling their success. Commercially, it was a No.1 hit and sold millions of copies, but creatively it was a misstep. Nevertheless, with five albums and no fewer than nineteen Top 40 singles to their name by December '98, any damp squib selections would be outnumbered by bangers. Aside from the later period-friendly She Is Suffering and an acoustic This Is Yesterday, The Holy Bible was under-represented, but given what it surely represented to the remaining trio, that's understandable. A mid-set triple threat of Motown Junk, Motorcycle Emptiness and Stay Beautiful, and a closing You Love Us, proved that the Manics could still carry off the rebel rock of their early days, and I remember telling an aghast Clare that they were actually a better live band now than they had been with Richey.
And so into 1999, a year which would bring my last (at the time of writing, but frankly likely to stay that way) visit to Glastonbury, the formation of my first "proper" band, and bucketloads of the sort of drama I pledged above not to go into anymore. It was also the year in which Jimmy and I decided to write a zine, and call it B'Zurka.
I had some form in this area, having written a zine while still at school - a zine which, in a chilling prophecy of what was to come, ended up unpublished when I realised my mid-teen cashflow wasn't up to the job of actually paying to have the thing printed.
Back then, the bands I chose to interview were largely drawn from the ranks of minor league UK thrash bands who advertised their demo tapes in Kerrang!'s unsigned bands column. The band which stands out in my mind is Amnesia, a band from Barnsley who did a pretty good job of sounding like a band from the Bay Area. Their demo was called The Final Revelation, and I genuinely thought it deserved to find a wider audience. I also got a VHS tape of a set they played in support of their fellow Yorkshiremen Acid Reign. The internet tells me that they released an album a year or so later, but it totally slipped under the radar - 1991, the year of the Black Album and Nevermind, was no year for a thrash band from Barnsley to release a debut album.
Also standing slightly apart from the thrash also-rans I interviewed were the glorious Hellbastard. The only band in my zine who were more from the punk scene than the metal one, they (well, mainman Scruff) was incredibly generous with his time, not only answering my questions but making me a C90 of unreleased tracks, live material and a radio interview they'd done somewhere in Europe, all interspersed with clips of John Peel saying things like "I now tell the children that if they won't brush their teeth, I shall invite Hellbastard round for tea..." I wouldn't actually get to see Hellbastard live for over twenty years, and when I did I decided not to bring up the fact that I'd wasted so much of Scruff's time in 1990, although he did spontaneously shake my hand at the end of their set, which was nice.
Now, nine years later Jimmy and I didn't really have thrash bands in our sights. Rather than specific genres, we just decided to try and cover any music which we thought was hip, though hindsight may reveal that our radar for such things wasn't always strictly accurate. Jimmy was a fan of zines like Bugs N Drugs, and we wanted to achieve some of the scattershot genius of that piece of work, with various musings and collaged graphics complementing interviews with... well, with this lot...
I'm not sure which band we did first, but I think it might have been Spraydog, who were playing an STE show alongside Milky Wimpshake and, much to their amusement, Minute Manifesto. Spraydog were a considerably more indie proposition than you'd normally find at an STE show, their booking revealing the influence of recent STE addition Ross, who was into the DIY indie scene based around labels like Slampt!. We'd seen Spraydog supporting Kenickie at the show mentioned above, and thought their Dinosaur Jr/Sonic Youth-influenced was pretty neat. I'm pretty sure we also interviewed, or at least chatted to, Milky Wimpshake, just cos they were hanging about downstairs in the grotty Joiners "dressing room" as well, while Minute Manifesto soundchecked above us. The latter were great again that night, obviously. Not sure why we never interviewed
them
...
Speaking of Kenickie, after their split Marie Du Santiago and Emmy-Kate Montrose wasted no time in forming a new band called Rosita, and were back out on the road by April. There was always something, I dunno, heroic about Kenickie, something which meant that even when their music started to get worse you couldn't help cheering them on. And even 50% of Kenickie was better than no Kenickie at all, so we were chuffed that they were cool with us interviewing them after their show (again, at The Joiners). Marie and Emmy-Kate were utterly charming and witty, and I remember them talking about how they preferred Aerosmith to The Smiths (pretty much a heretical viewpoint in the indie scene) and Led Zeppelin (because Steven Tyler didn't sing about fair maidens in Mordor and that sort of thing). The interview broke up when a heavily-pierced member of staff started clearing the room ("I think the scary man wants us to go..."), and sadly Rosita would themselves break up after just two singles. According to the Sunderland Echo, as well as playing with folk band The Cornshed Sisters, Marie is now the University of Sunderland chief executive officer of the Students' Union.
http://www.sunderlandecho.com/news/education/pop-star-to-student-star-kenickie-guitarist-becomes-sunderland-students-union-boss-1-4996062
Ten days or so after chatting to Rosita, we headed over to Portsmouth to interview Add N To (X), or at least their male members (we were pretty jealous of our acquaintance Kueh-Wah, who got to interview foxy synthster Ann Shenton while we were with the boys). They were entertaining chaps, however, and the show as a whole was probably the best of the ones we covered, their kinky retro-futurist electro-schlock a joy to behold. We interviewed opening band Appliance while we were there too, and their kraut/post-rock impressed me enough to end up wearing one of their shirts for many years to come. Perhaps more interesting, however, were Hovercraft. These Seattle residents were on the bill as they shared a label, the venerable Mute, with Add N To (X) and Appliance, but it seemed like most people were only (dimly) aware of them on account of the fact that bassist Beth Liebling was, at the time, Mrs Eddie Vedder. (Random synchronicity alert: her stage name was Sadie 7, which made it sound more like she'd got hitched to Add N To (X) chap Barry 7). Anyway, the Pearl Jam connection was something of a red herring, to put it mildly. Their set was a solid chunk of music with no discernible "songs". My memory fails me as to how long they played, but the nature of theiur freeform experimental instrumental jam was such that I probably couldn't have told you how long they'd played if you'd asked me straight afterwards. Appliance had the t-shirt and Add N To (X) the transgressive sexpop, but Hovercraft were the evening's revelatory experience.
Oh, Add N To (X) also had the naughty videos...
At some point, we also had a chinwag with The Jellys, who Jimmy's band Mondo Diablo were supporting at The Joiners (more on those Winchester Warriors next time, incidentally...) The Britrock scene which briefly flourished around the middle of the decade had, by this point, largely imploded due to shitty drugs, ego trips, bad record deals and all the other tried and tested harbingers of irrelevance, and what remained was a bunch of survivors regrouping in myriad forms to return to toilet circuit ignominy for one last bite of the cherry. It should scarcely be necessary to point out that almost all of these bands featured somebody who'd been in The Wildhearts at one point or another, but The Jellys were able to boast a 66.6% ex-'Hearts population, with CJ (as close as Ginger's ever had to a co-frontman, and also of Honeycrack, Tattooed Love Boys, et al) and drummer Stidi joined by former Wolfsbane bassist Jeff Hateley. CJ was a charmer, but it was Jeff who was the best value, not least for his frank thoughts on how he and his bandmates had been left high and dry when their singer Blaze Bayley got the call-up to replace Bruce Dickinson in Iron Maiden. Today, of course, Bruce is back in Maiden, Blaze is back in Wolfsbane, and the natural order of the world has been restored. Back then, Jeff was hopping mad at the fact that while Blaze had (probably) gone out and bought himself a posh car, the rest of the band had gone to sign on. The Jellys, incidentally, were a pretty good bubblegum pop punk band, albeit without any tunes to match up to Sitting At Home, I Like It Hot or, well, most of The Wildhearts' back catalogue.
Aside from a postal interview (you heard) with my long-term heroine Isabel out of Drugstore, our only other victims were Pist.On. Now, as you've seen, we'd trawled the length and breadth of England seeking out the cream of the crop of bands who happened to be playing in the area, but this was something different: an actual American rock band, from Brooklyn and everything. They were getting reasonable coverage in the metal press at the time, largely thanks to charismatic bassist Val Ium, and their deal with megacorp Atlantic meant that this was the only time we conducted an interview at The Joiners in a plush tour bus rather than in the venue itself. Val and frontman Henry Font were good eggs, and while I remember not one question we asked them, I do know that Henry solemnly intoned his Brooklyn address into my dictaphone so we could send him a copy of the zine. Clearly, they never heard from us again; Henry, in the unlikely event that you've found this blog by googling yourself, I'm very sorry.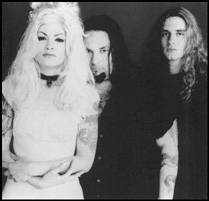 The rest of the zine was to be made up of various opinion pieces and weird collages. Jimmy has reminded me of a takedown of Robbie Williams that was due to appear, and there was some sort of diagram where bands and cultural icons were arrayed across a hip/unhip axis (although that might just have been in one of J's notebooks at the time). I also remember clipping a picture of Martine McCutcheon out of a paper, with her singing in a horribly emotive way and looking for all the world like she'd just been shot.
One other thing that was scheduled to go in there was a gonzo-ish report of when I saw some 17 bands in four nights (while working, almost certainly in an increasingly frazzled way, each day inbetween. And watching Eastenders). The first night was the time Rachel Stamp played The Joiners and me and Jimmy decided to go down because a) well, it was something to do and b) our friends in Scarlet Soho were supporting. We had somewhat underestimated the appeal of Rachel Stamp, however, and queued for a while only to find out that they'd only gone and sold the place out. Good old Mint sneaked us in nonetheless, rest his soul, but begging to be allowed in to a Rachel Stamp gig remains one of the lower points in my life. They were pretty ridiculous, and I was pretty drunk, so I heckled the Welsh glam upstarts by reminding them of their predecessors in one word, that word being "TIGERTAILZ!". Frontman David Ryder-Prangley (yup) replied by saying "Fuck you, man. This isn't glam rock, this is a REVOLUTION!" I'm glad he saw the funny side.
The next night was rather different: The Mad Professor turning The Brook into a dubby reggae party and pulling out a bunch of classic tunes to keep us entertained. After that, I spent the next evening and the following afternoon in the company of The STE, as their annual festival took over The Joiners. The first band I saw on the Saturday night were local supergroup Evil Is Never In Fashion, making their debut (and possibly, as far as I can remember, only) appearance. This 'orrible lot featured Clive out of Trophy Girls, Dingo/Matt out of Minute Manifesto, STE personality Ross and a guy I didn't know at the time called Adam, and they were a bunch of fun. Local lynchpins Good Grief and Minute Manifesto followed, before ex-Broccoli types Shon Ben served up some melodic hardcore. Boston (UK) power (violence) trio Urko were next up, rivalling Minute Manifesto for noisiest blighters of the day, before Mancunian riot grrrl/garage trash outfit Bette Davis & The Balconettes put a dampener on proceedings by smashing up their equipment...which wouldn't have been so much of a problem if they hadn't borrowed it from local band DiSoma. Two members of the latter took to the stage to denounce them, and Ross (who would have been the one who booked BD&TB, given his predilection for their Slampt!-style malarkey) had to strongly advise the visitors to fuck out of town immediately. Next up was a spontaneous burning of Bette Davis & The Balconettes records... oh no, hang on, it was Happy Anger, who I described at the time as "plucky, shirtless Frenchmen" who sounded like Fugazi. I'm sure they were ace, but I don't think I've heard a note of their music since. Mind you, having matched each band with a pint (yikes), I was barely capable of anything by this point. The last band of the night was Four Letter Word, but I scarpered.
The next day's STE fun time only lasted between noon and 3.30pm, thanks to a double booking with the band A, whose grasp of DIY punk rock ethics can be deduced from their demands to start soundchecking at a ridiculously early time. Getting down suitably early, I bumped into Nathan, Jimmy's bandmate in Mondo Diablo and Omeriah (again, more of them next time). I asked whether he'd been down the night before, and was told that we'd actually been chatting right before I split. Apparently, we'd been discussing how much punk someone could take, when I'd suddenly announced that I couldn't take any more and abruptly left. Ahem.
Local youths Bland kicked the day off, and were greeted with the following appraisal from me: "they need more practice, but they're diverting enough for a Sunday lunchtime." Careful with those superlatives, boy! The rest of the day - well, half an afternoon - was a splendidly mixed bag: surfy punk from TV21, moody thrash from Scalplock and intricate instrumentals from Trophy Girls, before a blazing finale in the shape of Short Hate Temper, an incredible thrashcore/power violence band from (I think) South America. Their set was almost ridiculously crushing, and it still stands out as one of the highlights from one of my years of STE gig attendance. Adam and I were reminiscing about them just this year, and marvelling that they never really got their due, even amongst aficionados of underground punk/HC/grind.
So, we put a lot of effort into sourcing material for our zine, but Jimmy and I ever get the damn thing out? No, of course not. We started a band instead. Come back next time to hear the sordid tale of The Gilamonsters...